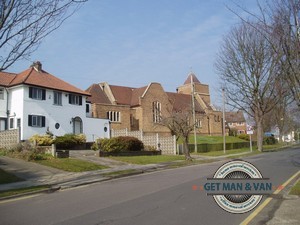 We are a man and van company that provides friendly and high quality moving services. At the moment we are known to be the removal tema that has the friendliest customer approach in the area of Orpington.
We have the necessary resources to conduct common relocations such as office and home removals and not so common relocations such as heavy duty removals. Even more to our knowledge we are the only man and van Orpington based company that provide heavy duty removals that involves the moving of heavy and oversized machines. If you're in need of moving such type of items – we're the people to call.
As seasoned movers that have been in the business for many years we know very well how uncomfortable most people feel with the fact that their personal items are being handled by, in essence, strangers. For that reason we've included moving insurance as part of each service package, as a safeguard and guarantee you'll be fully reimbursed in the unlikely event of transportation damage. Know that to this date we have never had an accident and we have achieved this great feat by always working carefully and double checking everything that we do.
Helpful and available customer support
If you aren't still certain whether we are the ideal man and van Orpington based company for you relocation give us a call and we will happily present you more information about:
Our team of movers
The various moving services we do
The methods and techniques with which we pack and load the moved items
Our removal fees
Also once you call us don't be timid and make a request for a personalised free quote. One of our representatives will send you a quote within 24 hours and you'll be able to see for yourself that we are truly the best moving company in the area.
As we aforementioned we are seated in the town of Orpington. The town is situated in the southeastern parts of the English capital and is part of the London Borough of Bromley. Orpington along with several other areas was absorbed by London in 1965. Before that the town was part of the historic county of Kent. In the London Plan, the town of Orpington is identified as one of the 35 major centers in Greater London. The Parish Church is regarded by many to be the most popular landmark of the town. The church was built during the 12th century and is known throughout the city for its Saxon and pre-Norman architectural features. During the 1950s the church was the subject of a reconstruction project which enlarged it. The Priory is another well-known Orpington based landmark. The Priory dates back to the mid-11th century and is regarded as one of the finest examples of medieval hall house architecture.