Get Man and Van provides customers with a specialised furniture delivery service as part of our comprehensive range of domestic and commercial removals. Our London furniture collection service is the quick, safe and inexpensive way to have your new furniture delivered from point of purchase to an address of your choice.
At the time of booking your furniture delivery London service with us, we would like you to provide us with some information on your purchase, including number of pieces or approximate volume of furniture to be transported, the store where the purchase was made, as well as the destination where you need the furniture delivered.
Flexible hours for furniture collection
We will organise the furniture collection for a suitable time and day of the week, specified by customers. We know that some retailers have a deadline for furniture purchases to be transported off the premises to customers, because of this it is best to secure your furniture delivery service with us a few days in advance. The information you provide us prior to delivery will help us organise the service more efficiently and also dispatch the correct size transport vehicle.
In order to accommodate all size furniture delivery requests in London, we maintain a fleet of purpose-built transport vehicles of variable size, wheelbase and payload capacity. Obviously, we need to avoid damage during handling and transit at all cost, this is why our transport vehicles are fitted with all the necessary latching equipment, insulation and protective materials and wrappings. Heavier furniture loads will not be a problem as we also have vehicles fitted with hydraulic tail lifts.
Our transport vehicles are equipped with satellite navigation and tracked in real time using GPS. These allow for timely delivery without any costly delays as our drivers receive live updates on traffic and weather conditions – avoiding any hiccups along the way.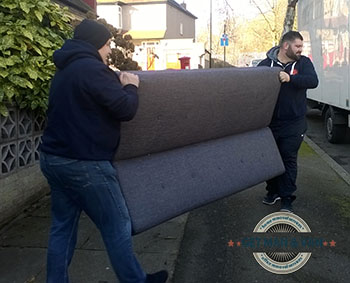 We are all about comprehensive coverage and end to end servicing. As part of our furniture collection service, we also do furniture assembly. Flat pack furniture, as well as other similar designs require specialised assembly. Our cargo drivers are also experienced property movers who have the technical skills and expertise to carry out the assembly of your new furniture properly and without risk of damage. The assembly process will be done quickly, efficiently and with the least amount of disruption. Our drivers will be out of your way before you know it.
The furniture delivery and assembly service we provide is reasonably priced and gives you good value for money. Furthermore, we will save you the stress and hassle of having to do your own furniture transportation, plus we guarantee timely and intact delivery. By doing this we also save you a decent amount of money in fuel costs and of course time from travelling to and from point of purchase to destination.
The service can be requested for any day of the week, including Sundays and public holidays as long as the furniture store or retailer is also open for business and available for collections. We recommend booking your furniture delivery with at least two days' prior notice.