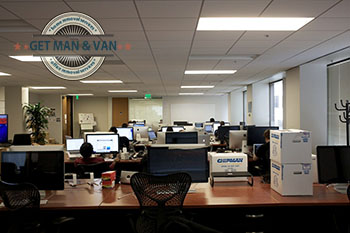 Relocating your commercial establishment or office is a quite a complex project which is best handled by qualified and experienced professionals, such as ourselves. We are confident in our skills and performance when it comes to office removals, as we have extensive industry experience in this type of moving service. Our professional office removals in London provide a fully comprehensive yet affordable solution which covers all aspects of the relocation from start to end. The service is designed to wrap around individual needs without unnecessary hassles or excessive costs.
We take care of everything from A to Z
We aim to provide a convenient, hassle-free office relocation solution which covers all stages of the removal process.
We can assist with scheduling and organising your office removal, our service is available seven days a week, fifty two weeks a year so you can pick a suitable, off peak time for us to carry out the move.
We can also help with packing and inventory of items prior to shifting and transportation. We ensure optimal protection for goods in transit through use of

industry grade, high durability packing and wrapping materials

.
We are licensed to perform a number of additional services including move in & move out cleaning so we can have the new premises spanking clean before you move in. Junk removal can also be included in your office relocation.
Punctual movers, reliable moving service
We understand that there is very little margin for error when it comes to moving offices and commercial establishments. Our removal teams are made up of qualified and experienced porters and drivers who know their work inside out. All necessary measures are taken to ensure careful handling and safe transportation of all items from A to B. We structure and carry out the actual removal process in such way as to minimise downtime for your business. We always do our best to have you settled in and ready for business as soon as possible, and with minimum stress and hassles.
The British capital is one of the most culturally and ethnically diverse cities worldwide. One of the last censuses conducted in London showed that 37% of all residents are foreign born. London has the second largest immigrant population after NYC in the US. London saw its major population increases during the 19th and early to mid-20th centuries. In the decade from 2001 to 2011 alone, there was a population increase of more than a million.