Give us five minutes of your time and we will show why you should hire us when you are facing a relocation. For one you should hire us because currently we are the most sought moving company in the city. Two we are amongst the most experienced man and van companies in the city as we have been in the relocation business for numerous years.
We are also the moving company with the largest fleet of moving vans. Every single one of our moving vans is fully fitted with top notch navigational systems that allow us to easily find any address within the United Kingdom and to avoid any roads that are jammed due to heavy traffic. In many ways it is our navigational tools that have permitted us to always finish the jobs for which we are hired in time. The cargo sections of our vans are equipped with high quality safety features such as straps and cushions. This way our clients have the peace of mind that their belongings won't get damaged during transit. Last but not least we have entrusting our moving vans to highly capable moving vans drivers who have years and years and years of experience behind their backs.
Full Service coverage of Barking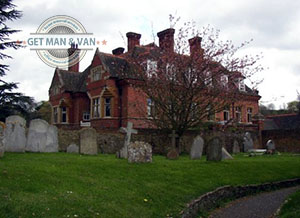 Keep in mind that we are one of the few man and van Barking, IG11 based companies that rents out its moving vans. So if you are in the need of a reliable moving van that won't let you down in the middle of your project, know that you should call us. Also if you don't feel confident enough to drive the van on your own, have no worries as we will lend one of our experience drivers. Have no worries about the rental fee because we have always worked with cost effective prices. Even more we dare say that we are unrivaled by the other moving companies when it comes to affordable removal fees.
Additional Services and Benefits
Consider the following facts if you are still wondering why you should hire our man and van Barking based company:
We are a licensed company to provide removal services in the United Kingdom.
We provide rubbish removals and storage services.
We have a client-friendly approach and we follow a company policy of honest and openness.
We welcome the opportunity to work with our clients.
We provide 24/7 client support and we are never too busy to turn attention to one of our clients.
Easy home removals
Are you moving from your flat to a new house? Or are you leaving your house because you are moving to another area of the city? Regardless of the reason, know that we are the ideal company to handle your Barking domestic removal. We have been in the moving business for numerous years and we believe that we have the necessary experience to easily handle all types of household relocations.
Quickly relocate your business
We also specialize in commercial removals, so if you are currently moving your place of work to a better and large office buildings, don't be timid to call us. We will not only handle your entire office removal from start to end, but we will also provide you services that will go above and beyond your expectations. We will do so because we firmly believe that our clients deserve nothing less than perfect services.
Available 24/7
Aside of providing domestic and commercial removals, we also provide junk removals of the highest quality. To our understanding we are the only company in Barking that provides this particular service and this make us very proud because it means that we have an edge over our competitors. So if you are on the look for junk removal services, don't waste time browsing the companies of the area and simply call us on one of our telephone numbers that we have provided.
As you have already guesses we operated from the area of Barking, IG11 which is situated in the northeaster parts of London. The area is part of the London Borough of Barking and Dagenham and is located at about nine miles from Charing Cross, London's key intersection. The area is home to the Barking Abbey Curfew Tower, St. Margaret's Church, the Rivergate Centre, the Barking Learning Centre and the sculpture of "The Lighted Lady of Barking".  The area of Barking is served by the Barking Station which was opened in 1854. Presently the station is used by approximately 15 million people per year.
There are many regeneration plans and schemes that are undergoing on the territory of Barking. Their aim is to increase the quality of life in the area and the overall infrastructure of public spaces and transport. There is no doubt that once everything is finished, Barking is going to take its deserved place as one of the finest residential districts in the metropolitan area of London. Much hope goes to the Riverside area, because as it often happens in the capital, this is the finest and most beautiful place in the whole district – no wonder it is the most desirable too.
Our company is based in the London Borough of Barking and Dagenham. The borough has a population of 187.000 people and is one of London's less populous boroughs. The density rate of the borough is also low, with 13.000 people per square mile. The former town hall of the Municipal Borough of Barking is one of the most noted buildings of the borough. The borough has an excellent public transportation system that links it to the other areas of the English capital.