If you want to have a truly hassle-free moving experience, no matter what the specifics of your project are, then you have to get a professional moving company you can trust to help you with the job. We are that removal services contractor in Cranford.
Looking for movers in Cranford, TW5. We can offer you a professional man with van at low rates.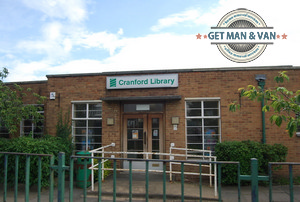 The one thing you need to do in order to get the man and van Cranford moving experience that would remove all the stress and strain of relocating your household, or just a single item of furniture, art or decoration, is pick up the phone and contact our 24/7 customer service support team. Our specialists will:
Answer all questions you have concerning our company.
Explain our methods and services in the greatest detail.
Provide you with a free no obligation quote based on the specs of the job.
Help you book the most comfortable day and time for your home removals.
In addition to simply moving your possessions from point A to point B, we would also be happy to lend a helping hand with packing your items. We are able to offer you adequate storage space and even carry out a rubbish removal service if that is necessary.
Our fleet of large and small vehicles – vans, Transit and Luton, among other – are suitable for projects of any scale and nature. Furthermore, we will accommodate your moving experience with us by offering you a chance to pay via any method you prefer – credit card, cash, bank transfer etc. As we have already had the chance to mention, all prices are estimated according to the specific needs and requirements of the project in question. We are more than certain that even if you are on a tight budget right now, we will be able to come up with an affordable solution to all your needs.
Call us today in order to book us as your man and van Cranford company. This is the wisest thing to do for your home relocation.
Cranford is a suburban town, which is located in the Borough of Hounslow in West London, some 20 kilometers away from the heart of the Inner City – Charing Cross. This comparatively remote location does not bring any harm to Cranford. Quite the contrary. It offers very easy and comfortable access to the City and other major business and culture centers in London, due to its well-developed transport connections, while at the same time it remains a relatively quiet and quite comfortable residential area. This combination, characteristic of many areas in West and South London, make Cranford an ideal commuters' town. People who seek comfortable and hassle-free life prefer to live here and travel on a daily basis to work in the City, instead of setting up much smaller, more expensive and uncomfortable homes closer to their work place. The close proximity of Heathrow might raise some concerns, but the problem with noise has found its solution in 1952 – with the Cranford Agreement. The air above the ward is not used for landing and take-off, thus local residents are spared from the negative sides of living so close to a major airport.