This means that regardless of the type of work you have for us – big or small, full household relocation or simple single piece of furniture delivery – we will take it up and carry it out in the only way we know – and that is the best way.
Our 24/7 customer support team is ready to provide you with further information concerning our services at any time. Just dial the phone numbers that are provided on this page, or write us in the online contact form we have set up on this webpage.
Quality Relocations Anywhere in Croydon
Our experts will take the time to discuss your project in detail with you and tailor an individual quote based on the specs of the job in question. You will notice that we work on pretty competitive prices that are suitable for any budget.
We will supply you with the packing materials that you need in order to prepare for your removal, or even do the packing for you.
We will move you from any point in London to Croydon, CR5, CR7 quickly and free of the hassle that usually comes with relocation projects.
Call us today or drop us an e-mail in order to book your moving day with us. It goes without saying that we are looking forward to being at your service and accommodate you in the best way possible during your moving day.
A convenient way to move
Are you moving to or from the Borough of Croydon? If you are, then don't handle your relocation on your own. Instead give us a call and have us plan, organize and execute your home removal in Croydon for you. We are a seasoned moving company that provides home relocations of the highest quality. By using our services you will ensure the successful completion of your move without you ever moving a finger.
Single, odd and extra heavy item moving
We also provide a large selection of specialized removals that involve the moving of ultra heavy and bulky items, manufacturing and industrial machines, works of art, fragile and delicate objects, transportation vehicles including boats and so on. We are able to provide all these services because of our extremely capable and knowledgeable employees who have years and years and years of experience under their belts.
Get rid of the junk
Also don't be shy to contact us if you have amassed a large volume of waste which you want to clear from your property. We can easily say that we provide the finest waste clearances in Croydon and we have a long list of positive testimonials to prove our claim. On the other hand if you require move proof about the quality of our services, get in touch with us and we will send you a free quote that we will certainly convince you that we don't just talk the talk, but walk the walk as well.
Things to Know About Croydon if You're Moving in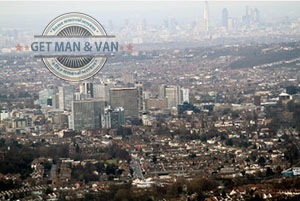 Croydon is the largest town and logically the administrative, commercial and cultural center of the London Borough of Croydon in south London. It has been identified as one of the 11 largest metropolitan centers in present day Greater London. Its importance for every aspect of life in these parts of the capital cannot be stressed enough. Its prominence is mainly explained with its location on one of the most important transport corridors connecting London with the southern parts of the country. This has additional benefits, because people living in Croydon have quite easy and comfortable access to the City and the big commercial centers in the Inner sections. On the other hand Croydon, SE25, SW16 is a big commercial center in its own right. Thus, it comes to no surprise that it is the preferred place of residence for quite a few people in recent years, and it is officially acknowledged to be one of the finest living areas in London at the present moment.
Croydon is an Outer London Borough that lies in the southern parts of the city. The borough is neighboured by the boroughs of Bromley from the east, Sutton and Merton from the west and Lambeth and Southwark from the north. The borough is under the governance of the Croydon London Borough Council. With a population of over 360.000 people Croydon is London's most populous area. The most famous landmark of the borough is the Croydon Airport which at one moment in time was the main airport of the English capital. Today the airport is serves the purpose of a museum and is one of London's most reputed and visited museums.
The London Borough of Croydon just like most boroughs in the English capital was created in 1965. The borough has a density rate of 11.000 people per square mile which makes it one of London's less densely populated areas. Croydon is home to the Nestle Tower which is the United Kingdom headquarters of Nestle S.A. The building is one of the tallest skyscrapers in London and England.