Our company has a solid reputation of being the leading man and van Dagenham operating contractor in the business today. There is no removal service that we are not able to deliver in a quick and hassle-free manner, ensuring your comfort and peace of mind throughout the whole process.
Advantages of Using Professional Movers
The good thing about having a moving company like ours by your side is that whatever the specifics of your project are, we will take care of every little detail for you. Yes, that is right – you will not have to worry about a single thing. We will take care of the planning and executing of every little step along the way. On the other hand you:
Save time and energy that would be better invested in more urgent matters.
Ensure the comfort and peace of mind of you and your family.
Save yourself the stress and strain usually associated with home removals.
If it sounds like a great deal, that is because it is.
Our man and van Dagenham operating moving experts are fully insured and licensed. What is more, all our movers, drivers and helpers have over 7 years of experience in the professional moving business – a fact that definitely makes them the right choice for your project.
Book a time in any part of Dagenham
We have a 24/7 customer support that you can turn to in case you have any questions concerning the manner in which you project is going to be completed, our services and the expenses you will have to make. Free no obligation quotes are given to anyone interested upon contacting us, so just pick up the phone and dial the numbers you see displayed on this page, or alternatively write us in our easy to use online contact form.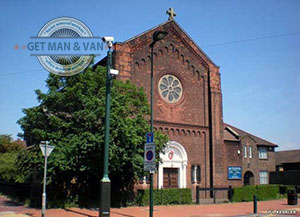 The only thing left then would be to book your unique moving experience with us and wait for our team to ring at your door.
We can handle evne the grandest relocation
Have you just bought a new couch for your living room which you cannot transport to your home because your car is too small? If you are in this unpleasant situation, keep calm and give us a call because we hold the solution for your conundrum. We are professional moving company that provides affordable and highly dependable furniture removals. Know that we can easily move furnishings of any size and shape, so have no worries that your couch may be challenging for us.
Flexible and business friendly office removals
We also provide full and partial office removals. This means that we can either handle your entire office removal from A to Z or take part in one or several stages of the relocation project. Regardless which particular office removal service you choose, at the end you will receive services of impeccably quality and you will automatically become one of our many loyal clients.
Move to your new home without a hassle
On the other hand if you are facing a household relocation, don't panic because we provide home removals in Dagenham as well. In fact our home removals are of such quality that often people from the neighbouring areas come to hire us for their moves. To see for yourself that we do indeed provide high standard home removals, call us and request a quote. Know that our quotes are free of charge and free of obligations.
Dagenham is a district places in two postcode areas – RM9 and RM10 in the London Borough of Barking and Dagenham. It is one of the two main administrative and commercial centers in the borough, a fact that greatly reflects on the outlook of the area, and the way of life typical for it. But, in addition to being an important administrative, business and residential center, Dagenham has a lot to show in the fields of culture and arts too. There is one manor here surviving from the beginning of the 13th century which presents a great interest to specialists and tourists alike. Entertainment life here is enriched by the Moby Dick pub on Eastern Avenue. The Roundhouse Pub however is definitely the most popular in Dagenham. It was the most important rock music venue in East London the 60s and 70s. Jethro Tull, Supertramp, Queen, Pink Floyd, Eric Clapton, Status Quo, and Led Zeppelin all held concerts here, making Roundhouse one of the places where classic rock music culture had been formed.
Overall, today Dagenham is both a major metropolitan center and a very cozy, comfortable and interesting suburban development where you are going to find all that you can possibly need. In addition to its cultural and entertainment venues and the well developed commercial area, Dagenham can offer you a number of very nice open green spaces where you can practice sports and recreational activities – that is something you rarely find in Inner London, which is one more reason you should be happy for choosing the district of Dagenham to move in and our company to help you with the process.
The Borough of Barking and Dagenham is located in the northeastern parts of Metropolitan London. The borough has a population of a little less than 190.000 people and is under the government of the Barking and Dagenham London Borough Council. The borough was one of the six London Boroughs that hosted the 2012 London Summer Olympic Games. During the preparations for the Olympics the boroughs was the subject of numerous restoration and regeneration projects. Today the borough is one of London's most praised areas.