Do not hesitate to hire Holborn's most efficient and affordable man with van company
Welcome to our company's official website. Here you are going to find comprehensive information about all our removal services in Holborn and more!
Regardless of the scale or complexity of your property removal, you need the project handled properly, without any errors, delays, or excess costs for that matter. Should you choose us for the job, we will make sure that every stage of the relocation is going according to plan, schedule and budget. With us there will be no unnecessary hassles or complications as our expert removal teams will deal with all aspects of the removal from A to Z.
Customers in Holborn WC1 WC2 can adjust the selected service as per individual requirements, or to include additional options as part of the service. Our overall aim is to make moving places less of an ordeal and more of a pleasant chore for people, and so far in our professional experience we have been able to do so.
What is important for us is not the scale or the complexity of your project. Neither is how much time and effort on our part it would be required in order to complete it. We take your comfort and peace of mind at a very high esteem and we will work hard day and night in order to ensure that you are provided with them.
If you want your project:
To be handled by a team of fully insured and licensed to practice removals throughout the UK man and van Holborn specialists.
Be carried out with the help of professional equipment and safety tools.
Get your personal items and furniture delivered to the new location with the help of modern van or truck from our huge fleet.
Get the best price possible calculated in accordance to the specifics of the job.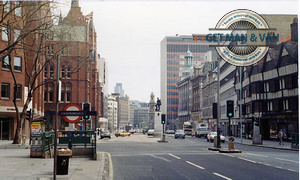 Call us today on the phone numbers provided on this webpage, or go to the Contact section where you will find an easy to use online contact form via which you can get in touch with the 24/7 customer service support team of ours. Book your removal with us and do not forget to request a free no obligation quote for your project.
Holborn is a well-known area in Central London's West End. It is part of the Camden borough. Holborn was first mentioned in a royal charter by Kind Edgar in the eighth century AD, which makes it one of the older parts of the British capital. After checkered rep and questionable (to say the least) forms of local entertainment at the start of the 18th century, Holborn reinvented itself to become more cultured and refined part of town.
The district of Holborn takes its name from the street running from St. Giles's High Street to  Gray's Inn Road, the Holborn Viaduct, Holborn Circus and Newgate Street. It is one of the most central places to live in London, which is a good enough explanation for the high prices of the properties and the social status that comes with setting up a home here. In popular culture Holborn is probably best known as the place where Furnival's Inn was located. Charles Dickens lived here for a period of time while writing Great Expectations and a part of the novel is set in Holborn. In more recent times, especially in the past decade Holborn is going through a process of even further gentrification. Many new offices and hotel buildings have been erected here. Most of them follow the neoclassical architectural style that is usually associated with the area. Living here definitely has its many benefits, especially for those who love being near the heart of all important events.