When it comes to cost effective, professional man and van removals in Kingston, KT that are actually worth your time and money, don't waste effort and resources on other companies, but come straight to Get Man and Van upon Thames. With us you can choose from a wide range of different moving services suitable for almost any purpose, occasion and budget.
Arrange for a Moving Team Anywhere in Kingston
If you are not sure as to whether or not we have the right type of removal service for you, by all means check with our helpful customer consultants at our number and the will be happy to resolve your query. In the meantime, check out some of the other service options we have on offer:
Specialised furniture delivery

to and from all towns and cities in England;
Professional packing service for items being shifted;
Supply of necessary materials for self-packing;
Relocation of single, odd and high value belongings;
Cost effective storage solutions available on a long and short term basis;
Rubbish removal and disposal for vacated and newly inhabited properties;
These are just some of the things we can do for you. In case you require multiple service options, we will be able to come up with a custom tailored service bundle that gives you the necessary coverage and cost efficiency.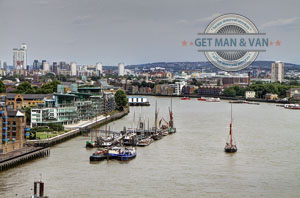 By choosing to go with our man and van services in Kingston upon Thames, SW you will receive a number of seemingly basic though rather essential advantages which are:
Punctual and attentive round the clock customer support, seven days a week;
Countrywide coverage on all removal services, this also covers jobs in London, Manchester, Liverpool and Birmingham;
Moving services performed by specially trained, professional movers and experienced van drivers;
Individually prepared service quotes and personalised pricing that meets your budget requirements;
Convenient booking hours that don't get in the way of your daily schedule, removals are also available during public holidays;
Multiple types of payment accepted including cash, credit card, invoices and bank transfers;
Fully licensed and insured to operate throughout the UK.
We own and operate a fleet of specially equipped transport vehicles of different size and capacity. We use compact city vans, speedy Transit vans, as well as heavy duty Luton vans wherever necessary. Our selection of TW,  Kingston upon Thames man and van removals is the versatile and efficient removal option you have been looking for. Call our number and let us make moving places the hassle-free, budget friendly exercise you need it to be.
Affordable services
We offer a wide variety of moving services in Kingston upon Thames that are aimed at providing you with adequate and cost-efficient solutions to problems that you might be having concerning relocations of both your home and office. Those services are carried out by trained and licensed technicians who know exactly how to do a job right. Our prices are also not to be missed – get your free quote now and see for yourself.
Professional moving vehicles
In addition to moving, we will be glad to assist you with rubbish removals in Kingston of any scale and nature. We have many well maintained trucks and skips that would be suitable for any job you have for us. What is more our licensed technicians have access to all London depots, so the junk they collect from your property will be properly disposed of and most of it even recycled.
Secure and insured storage
Storage facilities in the area are generally hard to find, which is why we have created our Storage Kingston upon Thames covering service, so that this problem is fixed. Get in touch now for more information about the types of cells available, as well as the conditions we have for long and short-term storage contracts, and other benefits of working namely with us. As with all our services, storage with us is cheap and very reliable.
Call for an easy and trouble free move
To our knowledge we are presently the removal company with the largest team of professional removal technicians. We have put together a huge team of experts and are able to help many people go through stress-free and hassle-free relocations. Know that the type of your relocation won't be a problem because we are licensed to conduct all types of moves from, to or across Kingston. To see for yourself that we are a highly competent company, call us today and request your free removal quote.
About Kingston upon Thames
While we deal with packing and stacking of boxes for you, why not use your newly found free time for more pleasant things like getting to know Kingston upon Thames a little better. It is an area of rich history and culture dating back to Saxon times. Kingston upon Thames, SW15 is one of the thirty five major metropolitan centres in the capital. When in the area, see Coronation Stone where Saxon kings were crowned for centuries. Kingston Bridge is another gracious local landmark. Most of the local shopping is centred in The Bentall Centre. There is an abundance of local bars, restaurants, cafes and pubs in Kingston.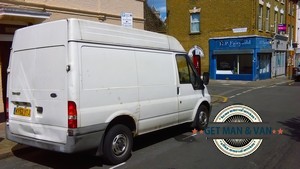 The Borough of Kingston upon Thames is one of the three Royal Boroughs that are located in the English capital. The borough lies in the southwestern parts of the city and spreads over an area of 14.38 square miles. The Borough of Kingston upon Thames is home to the Chessington World of Adventures theme park. The park opened doors in 1931 and presently has a total of 33 rides including four roller coasters and two water slides. The park is also the location of the Chessington Zoo which houses over 1.000 different species of animals. Rose Theatre and Hampton Court Palace are other well-known landmarks that are situated in Kingston.
Kingston upon Thames is a borough with a Royal Status. It has a very long history, and a major part of it is related to the British monarchy. For example, it is the home of the so called Coronation Stone, which was used in the crowing ceremonies of a number of Anglo Saxon kings in the 10th century and can still be seen as one of the major attractions here in the court of the local council.
We operated in the Royal of Borough of Kingston upon Thames. The borough has a population of approximately 160.000 people and is one of the capital's most noted areas. Kingston is home to a wide number of prominent landmarks that attract both domestic and foreign visitors on a regular basis. The borough is also the location of some of London's finest shopping areas.