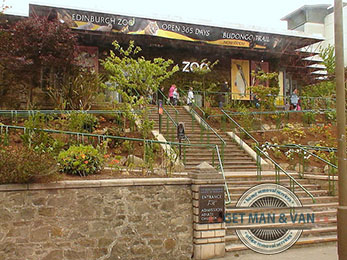 Planning to visit or maybe to move to Edinburgh? If you are not yet familiar with the Scottish capital and do not know all the beauties of the city, we will help you explore it so you can enjoy it after you settle.
Edinburgh Zoo
What an amazing way to get to know the city better! If you have kids, day at the zoo will be the perfect way to enjoy as a family. They will be thrilled to see pandas, cute koalas, zebras, armadillos and other animals they haven't had an opportunity to meet before. The zoo organizes special events as well, where you can learn a lot about animals by listening to the real experiences of zoo keepers, and many other. The zoo was opened in 1913.
Farmers' Market
Farmers' Market in one of the best places to eat in Edinburgh. Every Saturday on Castle Terrace you can taste fresh food products including different pies, Scotch eggs, etc. You can feast on all these produce with amazing view of Edinburgh Castle in the background.
Edinburgh Castle
Edinburgh Castle is situated in the centre of the city and it is one of the most popular tourist attractions in Scotland. What is interesting about this sight, besides its famous Royal and military history, is that at exactly 1 o'clock you can hear a traditional gun shot, which was established as a time signal for the ships.
Scott Monument
The Scott Monument was built in the honour of famous Scottish writer Sir Walter Scott. If you are willing to climb to the top to admire an amazing view, you need to climb 287 steps, but the view is worth it. Under the massive structure of the monument lays the statue of Sir Scott. There is a museum room inside where you can learn more about this talented writer and his heritage. Sir Walter Scott died in 1832.
Royal Botanic Garden
Royal Botanic Garden in Edinburgh is a garden of over 13.000 living specimens of plants, flowers and trees bred for the purposes of study. Its history dates back 300 years and it is a pleasure for all the family. One of the hotspots is the Glasshouse visit, where each of the 10 Glasshouses will mesmerize you with their distinctive climate and exotic plants.
Royal Yacht Britannia
The Royal Yacht Britannia provides many enjoyments. As the Queen's former floating Royal residence, each of its five decks will amaze you. Before you go on board you will be given an audio headset so you can enjoy your audio tour of highlights such as the engine room, the honeymoon suite, and the State apartments. You will be surprised and happy to hear that there is an audio guide for children also, and you can rest assured your kids will enjoy too. Complete your tour by enjoying your tea in the Royal Deck Tea Room.
These are few of the most visited sights in Edinburgh. Whether you are visiting or moving to this beautiful city, you will be amazed by all the things it has to offer.
---
About the Author:
Prev: «
Who is Lionel Bart?
Next:
Travelling specifications in the Middle Ages
»