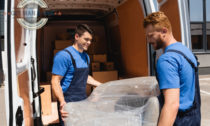 No matter whether you are moving from a small one-bedroom apartment to another, or you are literally moving houses, planning your relocation is a complex task. There are a lot of factors to consider, cost being among the most important ones. 
You might want to enlist some friends to help you with the packing and moving. Or you will be compelled to hire a reputable man and van company to handle every single detail of the project. Both options come with their pros and cons.
Or, you might want to explore a middle way. You and your family or friends might handle the packing and unpacking of your goods, and leave the loading and unloading of the van to the trained professionals. 
Is This Possible?
The short answer is yes – no reputable man and van company will refuse a simple lo...
Read More