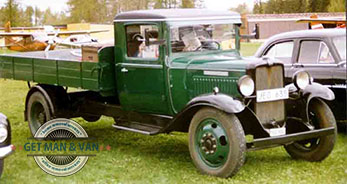 What has nowadays become one of the most popular trade and property removal vehicles ever – the Luton van, originated as a concept in the early decades of the twentieth century, on the drawing boards of famous British truck manufacturer Bedford Vehicles. The vehicle commonly known as a Luton van today, first appeared in nineteen thirty three in the form of a Bedford produced truck chassis simply known as a Bedford Two-ton van. There was no intentional designation as Luton van, but the name stuck as the Bedford plant producing the vehicles was located in Luton, Bedfordshire, England. The name Luton van was also popularised by the local hat straw industry – these trucks were used for transportation of straw hats hence Luton vans.
Bedford Vehicles – quick history
The principle owner of Bedford Vehicles, a subsidiary of Vauxhall Motors was General Motors – the US based auto giant which owned and still does a large percentage of car makes across the world. Until nineteen twenty five, General Motors manufactured their commercial/cargo vehicles in factories in Brazil. The GM trucks assembled in Brazil used parts imported from GM's plants in Canada. The Canadian sourced parts used by GM allowed them to import ready trucks in Great Britain under the Imperial Preference regulations. The Imperial Preference favoured the import of goods and equipment manufactured using materials from British Empire (Canada) as such imports had lower tariffs. The first of these trucks imported in Great Britain were commonly known as British Chevrolets.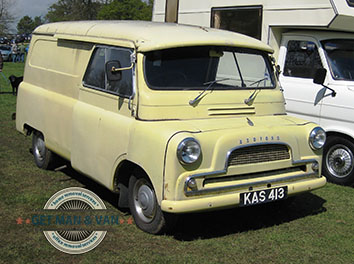 Towards the end of nineteen twenty five, General Motors bought out and took control over the British auto maker Vauxhall Motors. GM moved the existing Vauxhall plant from Hendon to Luton, which is where Vauxhall established their headquarters. By the end of nineteen twenty nine, Vauxhall was producing a range of vehicles at the new Luton plant, and also began development of what was to become the Bedford 2 ton Luton.
Bedford Vehicles was officially founded in nineteen thirty (shortly after Vauxhall settled in at their new plant in Luton, courtesy of GM). The company division which became a worldwide truck brand was engaged in development and production of light, medium and heavy goods vehicles. Bedford took so well, that it turned out to be GM's most profitable European venture for a number of years. As a brand Bedford survived for about sixty years, until the late nineteen eighties when General Motors divested it to AWD Limited. However, much of the engineering and design of Bedford's light commercial vehicles was used by other GM subsidiaries in existing and upcoming vehicle models. Eventually General Motors drew the curtain and closed down Bedford Vehicles in nineteen ninety one. After that light commercial vehicles initially developed by Bedford were rebadged and sold under the Vauxhall or Opel name, depending on region.
The original 1930s Luton van
In the years from nineteen twenty nine to nineteen thirty three, Bedford Vehicles developed and manufactured AC and LQ truck models. This took place at their Luton plant, in Bedfordshire, England. The truck was quickly dubbed a 'Bedford Chevrolet'. However, by the time the first ACs and LQs rolled off the production line in nineteen thirty one, it was officially decided to drop the 'Chevrolet' from the name of the new vehicle.
The Bedford AC – the majority of the AC model units were produced as a light truck with a 12 hundredweight payload capacity (hundredweight abbreviated to 'cwt' is an old imperial weight and mass measure unit used in UK and US in those decades).
The Bedford LQ – this model saw much more use and was produced and equipped for a variety of purposes including ambulance, lorry, bus and of course a cargo van – later becoming the famous Luton van.
Despite the fact that 'Chevrolet' was dropped from the name of the new AC and LQ vehicles made by Bedford in Luton, they were virtually indistinguishable from their American origin counterparts, except for certain design changes to the front grill. However, the Bedford LQ truck was made available in different wheelbase sizes – there was a smaller and a larger vehicle offered. The smaller vehicle was designated WHG, while the larger one was named WLG. The American Bedford Chevrolets were produced alongside the new range of trucks made in Luton, England until the end of nineteen thirty one. In late nineteen thirty one, Bedford developed and released a bus version of heir LQ truck chassis, which was designated WHB or WLB respectively.
Success at Bedford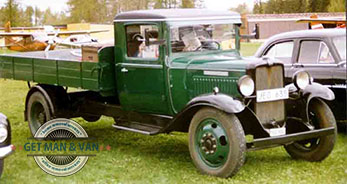 The British light commercial vehicle maker Bedford enjoyed big success, as their vehicles were warmly accepted by trades people and the commercial sector of the day. Bedford developed and dominated the light truck market in Great Britain for many years.
The main reason why Bedford were so successful in Great Britain and overseas imperial territories was the type of engine their trucks were fitted with. The power plant was originally developed by General Motors for Chevy trucks, but was also adopted by Bedford. The power lump of success was the Overhead-Valve, six cylinder Chevy Stove Bolt 6 engine.
The success and reliability of this engine, and the Bedford vehicles as a whole, prompted the British War Office to commission the company to develop the 15 cwt truck for the needs of the military in the eve of WWII. The truck entered in service in 1939 and became one of the symbols of the war effort.
Bedford vans were renowned for their ruggedness and dependability, making them a first and preferred choice for businesses and tradespeople. They are currently still often used by small firms and tradesmen such as builders, handymen, gardeners, plumbers, and electricians, as well as for delivering furniture, goods and various man and van services. Which is exactly why companies such as ours trust them as being our main vehicle of choice for the fleet that we maintain. Bedford vans are known to have been used by the British military, and their rugged construction, build quality and even off-road capabilities made them well-prepared for this purpose.
The Stove Bolt 6 engine proved to be a very efficient, smooth running and reliable power plant, well ahead of its time. The purring, in line six cylinder engine proved so good, it was in fact used as the basis for all petrol powered engines developed by Vauxhall and GM for light commercial vehicles until the Bedford brand was dismantled in the early nineteen nineties.
Further development and new models
In the decades to follow, particularly during the nineteen thirties, forties and fifties, the Bedford brand became an established, highly successful commercial vehicle producer popular in basically all Imperial territories. In the late nineteen thirties and early forties, Bedford revamped most of their truck range, but also developed and introduced many new vehicles, varying in purpose and size. One of the hugest commercial successes of Bedford during the nineteen fifties was the 1959 CA – a proper van, which became hugely popular in Great Britain and overseas.
Bedford Vehicles used a slightly modified Griffin logo (also used by Vauxhall Motors). The Griffin is derived from the heraldic crest of Falkes de Breaute – first Lord of Luton (Luton manor was granted to him by King John.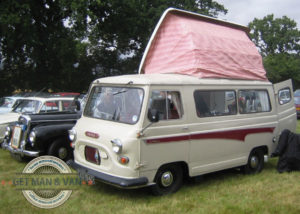 In addition to the standard panel van, the Bedford plant in Luton also manufactured a range of specialist vehicles based on the same chassis and suspension. These included refrigerated vans, mobile libraries, food trucks and even mobile stores. One particular example was the Bedford CA Dormobile, a small van that was converted into a camper van by Dormobile, a British company that specialized in camper conversions. The CA Dormobile was popular with outdoor enthusiasts and tourists, and surprizingly many examples are still on the road today.
10 of Bedford's Most Popular Vehicles
| | |
| --- | --- |
| Model | Year |
| Bedford Six WLG | 1932 |
| Bedford WLB Bus | 1932 |
| Bedford WLG Truck | 1933 |
| Bedford Two Ton Luton Van | 1933 |
| Bedford SB Duple Body | 1959 |
| Bedford C Duple Body | 1961 |
| Bedford VAL Twin Steer Coach | 1967 |
| Bedford TJ J1 | 1967 |
| Bedford CA | 1968 |
| Bedford HA Van | 1970 |
Additional Resources:
---
About the Author:
Prev: «
Mediterranean Islands where you are going to find paradise
Next:
Who is Lionel Bart?
»