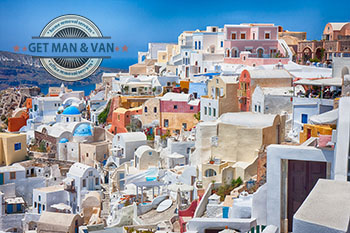 If you are looking for a great vacation spot that would be different from anything that you have ever experienced in your life, then some of the fine islands that are lined along the Mediterranean coast would definitely be up to and beyond your wildest dreams. Be advised however, if you spend a week in paradise, you are more than likely to start checking out your local moving companies for help with permanently relocating to some of those place.
Sardinia
The second largest island in the Mediterranean is located to the west of Italy's mainland. It has the status of an autonomous region that is regarded to in official documents as Regione Autonoma della Sardegna / Regione Autònoma de Sardigna. The largest city of Sardinia, which occupies the functions of a capital as well is Cagliari. Sardinia has been occupied by people since the Prehistoric era and for a considerable portion of its early history was part of the Phoenician and Roman empires respectively. So, if you are into historical monuments, it is a great place to visit, because the remains from those periods are very well preserved in many places in Sardinia. Tourism is the main economic sector that is being focused on here, and there are many great conditions for tourism of various sorts on the island. Sardinia offers a nearly perfect blend of conditions for seaside and cultural tourism which makes every visit to the island an unforgettable experience.
Majorca
The island of Majorca, or as it is sometimes spelled Mallorca, is the largest of the Balearic archipelago off the coast of Spain. The fact that it is a destination extremely popular with tourists is clearly demonstrated by the fact that the annual number of people who go though the Palma de Mallorca Airport is well over 23 million.  The Institute of Statistics of Balearic Islands is making an annual report of the visitors to the island by country, which for the past years shows the following:
| | | | | | | |
| --- | --- | --- | --- | --- | --- | --- |
| Rank | Country or territory | 2014 | 2013 | 2012 | 2011 | 2010 |
| 1 |  Germany | 3,731,458 | 3,710,313 | 3,450,687 | 3,308,604 | 2,224,709 |
| 2 |  United Kingdom | 2,165,774 | 2,105,981 | 1,986,354 | 1,898,838 | 1,324,294 |
| 3 |  Spain | 1,088,973 | 985,557 | 1,192,033 | 1,195,822 | 759,825 |
| 4 | Nordic Countries | 758,940 | 758,637 | 668,328 | 572,041 | 387,875 |
| 5 |  Benelux | 366,130 | 363,911 | 360,973 | 368,930 | 284,845 |
| 6 |   Switzerland | 334,871 | 312,491 | 292,226 | 280,401 | 188,826 |
| 7 |  France | 328,681 | 337,891 | 349,712 | 316,124 | 187,589 |
| 8 |  Austria | 175,530 | 160,890 | 138,287 | 181,993 | 107,991 |
| 9 |  Italy | 165,473 | 154,227 | 173,680 | 200,851 | 135,535 |
| 10 |  Ireland | 100,059 | 104,827 | 115,164 | 158,646 | 68,456 |
As you can see, Majorca has a lot to offer and British citizens know that. In addition to great beaches, the island contains notable tourist attractions such as La Seu, Palma Cathedral, Bellver Castle, Lakes Cúber and Gorg Blau, Sa Calobra, Escorca and many others.
Corfu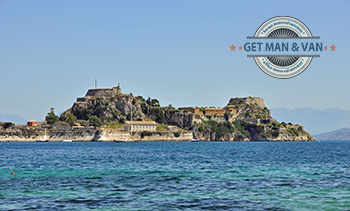 Corfu is a Greek Island that is within the territory of the Ionian Sea. It is among the largest Ionian Islands and a popular tourist attraction ever since the 17th century. It was one of the must-see stops on the way of the Grand European Tours that young members of the British Nobility used to take before they dive into the management of their hereditary estates and business ventures. The old town of Corfu, which is the capital town of the island, mixes Mediterranean traditions with eastern influences that simply spell out magic. Naturally, when one visits an island for their summer vacation, they do it mainly for the relaxation at the beaches, which Corfu has a plenty. If you feel like exploring the history and culture of the place, you might however be interested into visiting some of the famous tourist attractions here, such as the The Archaeological Museum, The Archaeological Museum, The Byzantine Museum of Antivouniotissa or the Serbian Museum of Corfu among other great places. Corfu used to the be a tourist destination for European Royalty and elite well into the 20th century and the noble atmosphere is still present in the place up to this day.
Santorini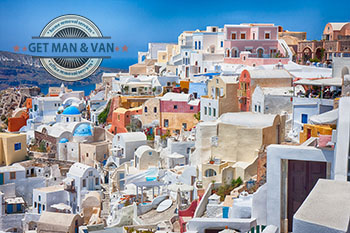 Another great Greek island that you must consider paying a visit to is of course the Island of Santorini. It is a much smaller place in terms of territory in comparison to the islands that we have talked about up until now, but it s a great place for relaxations both with friends and with your family. Fira (Phira), Oia, Emporio, Kamari, Perissa, Imerovigli, Pyrgos, and Therasia are the main towns and villages along the coasts of Santorini that have been developed specifically to accommodate the tourists coming to the island. Make sure to check out some of the examples of the local cuisine when you are visiting Santorini:
Brantada is a local fish dish coated in a mixture of flour, water, salt and sometimes beer. The best place to try that out is in some of the small villages here, where it will be prepared in accordance to the original recipe and would most likely be served with garlic salad as a side.
Santorinio Sfougato contains small zucchini, onions, extra virgin olive oil, flour, eggs, rosemary leaves or spearmint tea leaves or dill, xinomyzithra or other sour milk cheese or soft feta, naxos sweet gruyère, salt and fresh ground pepper, sweet peppers, sesame seeds – it may sound rather complex to prepare and that is why you should not miss the chance to try it out, because you are unlikely to find all the traditional ingredients at your local farmer's market.
Fava is another local dish that is great for every occasion. It is usually prepared with broad bean.
The wine industry in Santorini is also very well developed so if you like wine, then you should definitely try out some of the local brands, especially those that are prepared with the indigenous grape variety which goes by the name of  Assyrtiko, as well as the traditional Aegean Athiri and Aidani. Accessing Santorini is also pretty well accommodated, thanks to the fact that is has the only major airport in the Cyclades.
---
About the Author:
Prev: «
The ultimate guide to moving homes in the summer
Next:
Bedford Vehicles – Creators of the Original Luton Van
»