The essential feature of a Luton van is its cargo box (these vehicles are also commonly known as box vans in the UK). A Luton van without the box is basically a van chassis with a cabin. The cabin of a Luton van doesn't really differ from the one of a standard panel van of the same make and model. This however is where the similarities between the two vehicles end.
Cargo Box Material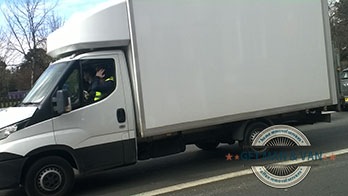 The box of a Luton van determines its cargo capacity volume, its chassis and suspension strength determines the cargo weight. There are different types of cargo boxes fitted on Luton vans. Their main characteristic is the material they are made of.
Aluminium cargo box – this type of box is relatively light weight and may slightly improve the vehicle's fuel efficiency. However, the aluminium cargo box is softer than other versions and needs to be treated carefully to avoid dents, punctures and tears during loading, transporting and unloading of heavy or sharp items.
Fibreglass cargo box – this type of box is heavier than the option above, and may affect vehicle's performance and fuel efficiency. Although heavier, a fibreglass cargo box is much stronger and more rigid than its aluminium counterpart. Having said this, it is not indestructible and should be treated carefully too as sharp objects and heavy items may also dent or puncture the inner or outer layer of fibreglass.
Cargo Box Size
The size of a Luton van cargo box also varies, some are larger others smaller. A Luton van is the preferred option for man and van in London and other large cities as it gives extra cargo space without adding too much dead weight. Here is a basic comparison of cargo space in Ford Transit and Mercedes Sprinter in panel and box van versions respectively.
| | |
| --- | --- |
| Ford Transit (Panel Van) | Ford Transit (Luton Van) |
| 350 – 400 Cubic Feet | Approx. 600 Cubic Feet |
| | |
| --- | --- |
| Mercedes Sprinter (Panel Van) | Mercedes Sprinter (Luton Van) |
| 450 – 500 Cubic Feet | At least 600 Cubic Feet |
Generally there are two sizes cargo box fitted on Luton vans. One is the standard size box, the other is Hi-Capacity box, also known as a Jumbo box. Both have their pros and cons, for instance – the smaller box makes the vehicle easier to navigate through tight spots, the hi-capacity one gives more cargo space.
A standard cargo box has approximately

600 – 650 cubic feet capacity

;
A jumbo sized cargo box increases

capacity to about 750 cubic feet

;
The standard sized cargo box and the jumbo sized cargo box vary in their payload capacity as well. The standard 3.5 ton Luton van has an operational payload between 1000 and 1200 kg. The Jumbo sized box can accommodate some 1200-1300 kg, so the London man and van you hire will probably go for the jumbo box not just in cases when you need help transporting bulkier objects, but also if your possessions have a higher overall weight. Note that all dimensions and capacity estimates may vary slightly from van to van, depending on the brand and model of the vehicle employed in the particular London man and van job.
Ideally, a man and van company or a removal service provider would base their choice on the particulars of their day to day work. If a company deals solely with lighter goods, then perhaps an aluminium box is the more suitable option. Obviously, heavier items are best transported in a fibreglass cargo box. The size of the box itself is also based on the specifics of day to day work – a larger box makes the physical size of the vehicle bigger. However, fewer items can be transported efficiently in a larger box, but not the other way around.
---
About the Author:
Prev: «
Self driving lorries are here
Next:
Why you should move to Camden Town
»