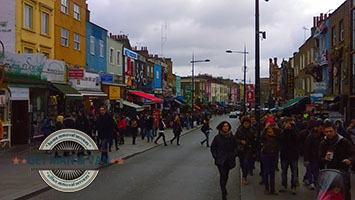 Now, there is little doubt that London is one of the best places on the planet to live in. The problem is that once you decide that you are going to move to London and call the man and van company, you are going to need to pick up the exact place that you will renting or buying in. Here we will try to make the argument that Camden Town is one of the best places in the capital to live in. Some of the reasons are:
The Camden comes from Charles Pratt, 1st Earl of Camden. He was born in 1714 and his earldom estate – Camden Palace – was located in the county of Kent. Gradually, as it often happened in what we currently refer to Greater London – around the estate grew a settlement. An interesting fact is that well into the 20th century, Camden was not considered to be a fashionable location, despite its close proximity to the City. The great change came in the 1970s with the opening of the famous local markets.
The Camden Street Markets and economy
Today the economy of Camden is primarily centered around the entertainment industry and arts. Most of the independent shops that have been operating from the territory of the former village have been replaced by chain stores. Today Camden is a more popular shopping location than many other places in London. Camden is also home to some of the finest restaurants in these parts of the capital. They have one more advantage – they are a bit isolated from the hassle of the markets, so if you want to grab a bite at a quiet and comfortable location, Camden is the place that you can make that happen. Check out Parkway, Chalk Farm Road, and Bayham Street. The main claim to fame of Camden today however is the world famous Camden Street Markets. Popular tourist attractions, you are going to find them around Camden Lock, as well as those at Buck Street, Stables and inside the Electric Ballroom. You can find literally anything here – from antiques to clothes to "alternative fashion" items that are really popular with the young people from all over London.
Camden Town is located at a very close proximity to Central London. If you are working in the City or some other central district, you will have no trouble reaching work from here. The district is serviced by the London Underground, rail and major roads such as Royal College Street and Camden Road (A503).
Camden has a number of housing developments – semi-detached houses as well as apartment buildings that you will definitely find great and comfortable living in. At the same time, Camden Town is famed for having one of the most vibrant community spirits in London at present. It is a centre of youth and alternative culture, a centre of arts and entertainment. All in all, it is the colorful and active place that you will feel great living at.
---
About the Author:
Prev: «
Box Vans – The Box
Next:
Why you should move to… Kensington
»