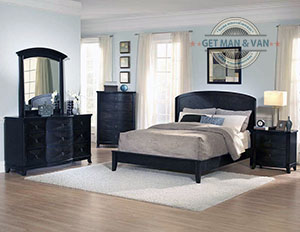 Most tips that are to be found online concerning domestic relocations of any sort usually concentrate on general advice about how you should approach your upcoming relocation project. This is definitely a good thing, because there are a lot of dos and don'ts that you should be completely acquainted with before you proceed to moving your home to a new location.
But the overwhelming amount of advice usually skips some practical steps concerning preparing specific areas of your home, like the bedroom, the living room or the kitchen. Here we are going to try to help you pack your bedroom in the most appropriate way, so that you do not have any problems with the process of moving it.
First and foremost, inform your man and van contractor about any specific requirements that moving items in your bedroom are going to have. For example, if your mattress needs special care, or there is a really voluminous wardrobe that you would not part with under any circumstances. After all, you pay a man and van company so that there are trained and experienced professionals by your side who can come up with a  solution with any problem and need that might arise along the way.
The bedroom is the one place in your home that is specifically designed for you to relax in it. You might have books, a set of CDs, a TV or even a computer there you distract yourself with at night before you doze off to sleep. They present a real danger for you while you are preparing the bedroom for a relocation, because they can distract you and make you fail accomplish the tasks set. So make sure that all electronics are unplugged when you get down to work.
Start packing the smaller items, that usually have the biggest sentimental value – jewelry, photograph, souvenirs and other ornaments. Wrap everything carefully in bubble wrap and set them aside, while you concentrate on the rest of the items in the bedroom.
Get plenty of boxes and containers for your items. It is a general rule for every relocation – it is always better to have more packing supplies than you need than to have less and wonder what you are going to do, because the people from the man and van company are coming in an hour.
As for the larger items – they actually present the greatest challenge. In your bedroom there are drawers, wardrobes and, of course your bed. They are large objects that are hard to fit not only through the door, but also on a van. The easiest solution is to of course to disassemble any large items and after securing every part of them, move them piece by piece to the newly assigned location of your bedroom, where they are reassembled. If you do not feel up to the task, you can always ask your moving contractor to do that for you – they are going to be happy to be of help.
---
About the Author:
Prev: «
Few Facts About the Tower of London Everybody Should Know
Next:
The Centuries Old Spa City of Bath
»