Here are the remaining entries in the top nine fish and chip shops in southeast London and north Kent. Remember, this is just a list not a ranking so all of the venues are exceptionally good and worth visiting, especially if you favour the good, old British tradition of fish and chips.
Sutton at Hone Fish Bar on Main Road, Sutton at Hone. Regular patrons and local customers have voted this place as the best fish and chip shop in the entire district, so make the time to check out the food – it should definitely be worth it. Specially cooked, extra-large cod will cost you five pounds fifty pence, large chips is two pounds thirty pence.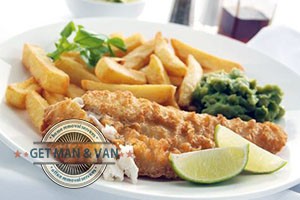 Salisbury's on Salisbury's Road, Bromley. The place has a twenty eight year history of providing the best possible quality food to its customers. Owner says nothing short of the best will suffice as he serves the best customers, and they deserve it. He goes on to say that his success is also based on a tight knit, hardworking team. Here, large chips and cod will cost you seven pounds ten pence.
Frying Pan on Parsonage Manor Way, Belvedere. Frying Pan has been around for nearly quarter of a century, managed by the same owner. The place promises fresh ingredients and freshly cooked food every day. Manager says, repeat customers are the story of his success – people come to eat here from as far as Cobham. Large chips and cod will cost you five pounds sixty pence.
Marino Fish Bar on Maidstone Road, Sidcup. The owner says it's all about using fresh ingredients and cooking everything to a perfect finish, but also about keeping customers happy as much as possible. He is also proud of his many return customers. Here, large cod and chips will cost you six pounds seventy pence.
And that's that. Indeed, there are many good fish and chip shops in London and surrounding districts so it is just a matter of finding and choosing the one you like best, or the one nearest to your home or office. Fish and chips may not be everyone's favourite meal, but fact of the matter is fish and chips is a British tradition going back a long time, and despite of what some might say or think – fish and chips are here to stay.
Currently it is National Fish and Chip Week, and people have the opportunity to learn an extra thing or two about the 'dish you can eat without using a fork or a knife'. Apparently the first ever fish and chip shop to be established was the one in Tommyfield Market, Oldham. This ground-breaking event took place circa eighteen sixty. There is a blue commemorative plaque marking the spot of the first ever fish and chip shop in England so you can't miss it. According to tradition, fish and chips were a Friday night treat, however in modern times fish and chips are favourite meal to many, regardless of what time or day of the week it is.
---
About the Author:
Prev: «
Top 9 Fish and Chip Shops in Southeast London and North Kent – Part 1
Next:
Everything You Can Forget When Packing
»