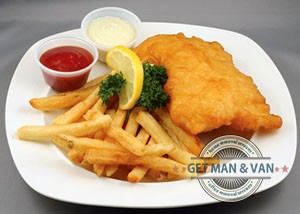 Fish and chips are a great British tradition that has spread to most countries of the Commonwealth. In countries like Australia and New Zealand, fish and chips used to be almost a religious thing. In recent years, the popularity of fish and chip shops has been a bit shaky – healthy eating concerns being the main reason for it. Then again – rarely something as finger licking good as fish and chips is expected to be healthy right! Nevertheless, fish and chip shops are the prototype of the whole fast food industry which has spread all over the world, and as such they deserve recognition and appraisal. If you are wondering which are the best such spots to eat at, as there are just too many of them to choose from, here are listed the nine best fish and chip shops in southeast London and north Kent, enjoy!
(They are all equally good, so this is not a ranking table, but just a list, everything is fair and square!)
Reliance Fish and Chips on Queen Street, Gravesend. The place has been in action for over ninety years, including during the war, and has received numerous awards during that time. Word from the owners: 'A better fish and chips you will not find!' Cod and large chips will cost you seven quid forty pence.
The Village Fish and Chips on Petts Wood Road, Petts Wood. Officially, this place is recognised as one of the top fifty fish and chips shops in the country. Although you may have to pay a little extra, you are guaranteed to receive the highest possible quality fish there is. A trademark of theirs is to cook in front of you, using ground nut oil (which is healthier). There you can get cod for five pounds ninety pence, and a large chips for two pounds and ten pence.
Golden Chippy on Greenwich High Road, Greenwich. According to the owners, their fish and chip shop is the place to be for traditional, old school fish and chips experience, where you can sit down and enjoy a glass of wine or beer with your meal. There, large cod and chips will cost you eight pounds twenty pence.
Sea Bream on Sherwood Park Avenue, Blackfen. The owner says that the best indicator of how good his fish and chips really are is the twenty people deep queue lining outside the shop every Friday and Saturday night. Enough said. Cod and large chips there will cost you seven pounds ten pence.
Brockley's Rock, Brockley Road, Brockley. Apart from the classic fish and chip options, the place also serves a variety of grilled seafood, with focus on ethics and sustainability. The place has gluten-free Tuesdays and is open on Sundays! According to most people, the food at Brockley's Rock simply rocks. They also got a seating area. Cod will cost you five pounds forty pence, chips is two pounds eighty pence.
The remainder of the best fish and chips shops around – coming up next!
---
About the Author:
Prev: «
City Living – Reformatted
Next:
Top 9 Fish and Chip Shops in Southeast London and North Kent – Part 2
»