People who have moved house before know how complex and confusing the process can be, in terms of both prep work and logistics. When it comes to logistics, a good man and van removal company will handle the removal properly, without too many unnecessary hassles for you – no dramas there. Perhaps the problem lies more with the small specifics concerning the removal that usually drive people up the wall.
Packing seems to be one of the biggest issues for most people undergoing a house removal. Indeed, the 'big pack up' can seem like a tremendous hassles, and let's face it – it is to an extent. However, the job can be made more manageable. If by any chance you don't wish to pack, then by all means let the movers do it for you – professional packing of items can usually be requested as part of every house removal service. Packing your wardrobe is one of the main challenges – if you have a small wardrobe, it might be good to pack the furniture pieces itself, with all the clothes in it, it will be heavy lifting for the man and van people so don't opt for this unless you really do have a small sized wardrobe. The other option is to use large sized garment bags where you can fit a number of hangers with the clothes hanging on them.
Take lots of photos of your new home's interior and exterior. If you do have the option of doing so, a good set of photos will give you a decent indication of where you want to place furniture, how to arrange items (at least initially), basically photos will help you make settling in more manageable.
Don't get locked out – a major issue for people moving to a new home, especially when there are not enough key sets available for everyone on moving day. The easiest way to ensure you won't have to break into your own home to liberate the rest of your cardboard boxes destined for removal, is to simply wrap a rubber band around the door lock so that the door won't shut and lock on you. Especially important for doors fitted with deadlocks.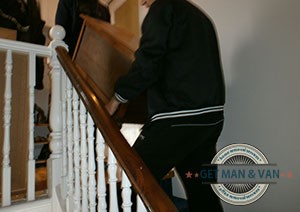 Label your chargers, device cables etc. – these days most people have many different gizmos and gadgets, from smart watches to smart TVs and all in between. All of these devices use relatively similar (in appearance) chargers, adapters and chords which can be mixed up, lost, tangled up and what not. Be sure to separate the wiring and chargers/adapters of each device and clearly label or colour code the particular bundle. This is easily done using masking tape – works well for binding and you can write on it too.
If you are all about packing and securing (which makes perfect sense) then you'd know that sticky tape or masking tape tends to stick to certain items/surfaces almost permanently and won't budge. To avoid such scenarios simply tie the item or box using a string, then run the tape over the string, leaving yourself a bit of string hanging out at the end. When unpacking – pull the string and the tape will come off with it Voiles!
---
About the Author:
Prev: «
Moving House – Get the Red Tape Out of The Way
Next:
5 Value for Money Destinations
»