Selling your house can be quite serious and demanding in terms of adequate pricing, suitable presentation, private sell versus estate agent services etc. Even if you have found and secured your next residence, postpone finding the right man and van removal company for later on, as there are bigger fish to fry.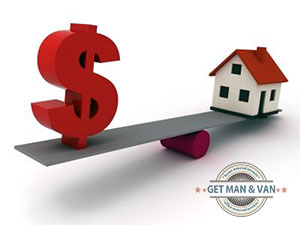 Pitching your home at the right price is crucial for a quick sale. Under-pricing the property is indeed no good, but not too many houses for sale are under-priced, really. On the other hand, overpricing the place is also a problem as it will not draw enough attention.
Owners must be very careful (even somewhat flexible) with their price forming. Keeping the place up for sale at a higher price for too long is not a good idea as owners will miss out on lots of potential buyers. In many cases, the only thing putting off potential buyers is the unreasonably high asking price. When looking to value the property accurately, owners can do the following: collect no less than three valuations from professional real estate agents/brokers. The three figures will give a good indication of the actual average price.
Sometimes, unethical real estate agents will sign up the place at a higher price in strive to secure your business i.e. you are happy with the high price and willing to stick with them. In some cases, buyers interested in your property might be indirectly prevented from buying it, as your high asking price is too much for their mortgage lender to approve.
If owners stick to the high asking price regardless, they might end up with what's known as a stale listing – the property has been sitting on the market for too long, with little if any interest on behalf of buyers. Lowering the price at this stage would be too little too late.
When figuring out the correct price for the house, or when looking to readjust it accordingly, owners shouldn't try and cover additional expenses like conveyancing, or man and van removals to their new place by overpricing the current house. Instead, they need to ask themselves a few simple questions like:
– If I was to buy this house at this price, would I agree to it? If the answer is anything but a solid 'yes' then perhaps a figure adjustment is in order.
– Even though it seems like a higher asking price will leave owners with more room for negotiations, many potential buyers will not be willing to wiggle around in negotiations, but simply turn their attention to another property.
– Asking for the right price from the start, will save owners the hassle and worry of having to keep the place immaculately clean for months, also the endless (and futile) buyer viewings etc. Not having to go through all that means more time and opportunity to deal with other things like choosing the right man and van company for the upcoming removal to the new place.
Overall, set the property up for a quick sale and create a buzz by asking the correct price – it will be worth it in the end.
---
About the Author:
Prev: «
Some Pros & Cons to Buying a Modern House
Next:
The story of a great Chelsea resident: J.R.R Tolkien
»