People have different tastes and likes when it comes to residential properties, some like vintage homes, and others prefer newly-builds. In case you got your mind set on a modern house and want to go through with the purchase, consider some of the following factors as this may influence your final decision. There should be plenty of time to find a suitable man and van company to move you to your new home so focus on the more important things for the time being.
Energy efficiency is one of the biggest benefits of living in a newly-built. Modern homes feature thermo and hydro insulations which retain heat in winter and keep the place cool in summer. All in all this adds up to fewer running costs. It is important to consider and account for the ongoing costs of running the house before buying it.
Newly builds give you the opportunity to start decorating and personalising from scratch. A modern home is somewhat of a blank canvas where you can express yourself. Newly builds are usually finished in neutral or subtle colour schemes which give you the opportunity to flare out and decorate just the way you want to. No prior occupation means no trace of someone else's tastes in homemaking.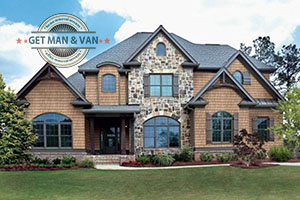 Newer homes are built using the most up to date materials available, which are way better than their counterparts used on older houses. In case of a flaw or damage, modern building materials are readily available and usually cheaper to obtain, install, replace etc. Another upside of new building materials is that they were recently installed meaning they do not require any maintenance for the time being – you save money by not having to replace or repair.
Mind you saving some money along the way will help you offset the burden of additional expenses you had to incur like man and van removal company costs, utilities transfer etc.
A modern home also gives you the benefit of living in a structure built according to the latest safety requirements, energy efficiency regulations, safety & security features etc.
In the UK, new homes are usually covered by a special warranty covering any construction flaws. The warranty listing the faults will be used for drafting the insurance policy of your new home. The warranty gives an extra layer of protection to homebuyers. When understanding the warranty and insurance coverage, you also need to understand that certain structural issues (which are not flaws) like subsidence (settling of the house) are quite common and not a cause of concern.
A benefit of newly builds is that they are constructed according to modern standards for size and dimensions, this usually means more efficient and safe removal of furniture and items, to and from the house – meaning the man and van company will not have disassemble or uninstall windows and doors in order to get you stuff inside or outside the house.
If looking to resell a modern home at a profit, don't expect too much as new houses are hard to add value to as they already have all the bells and whistles which would otherwise fetch a higher price.
---
About the Author:
Prev: «
Dos and Donts of a Removal
Next:
Overpriced Homes – The No-Sellers
»