The area of Chelsea is one of London's most renowned areas. Chelsea is currently one of England's and Europe most affluent and expensive residential areas. The area lies in the Royal Borough of Kensington and Chelsea and is home to numerous prominent landmarks such as Chelsea Bridge, the Chelsea College of Art, the Statue of King Charles II and Oscar Wilde's House.
The area of Chelsea has and is also the home to numerous notable people such as the aforementioned writer and poet Oscar Wilde. However Oscar Wilde isn't the only famed author that has lived in the area. Another well-known writer and poet that have lived in Chelsea is John Ronald Reuel Tolkien more commonly known as J.R.R Tolkien.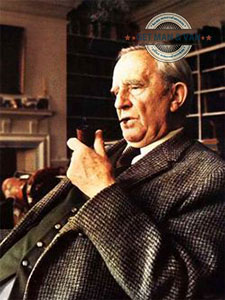 J.R.R Tolkien was born on the 3rd of January 1892 in Orange Free State (now Free State Province in South Africa). His father Arthur Reuel Tolkien was a banker, while his mother Mabel Tolkien (nee Suffield) was a housewife. J.R.R Tolkien went to England with his mother at the age of three. The trip was meant to be a lengthy family visit, but Tolkien's father died before he could join his family in England. This left the family with no means of income and his mother decided to relocate in Kings Heath in Birmingham, where her parents lived.
By the age of four J.R.R Tolkien could read and write fluently. The young Tolkien also showed an immense interest towards botany and field towards which his mother had interest as well. At the age of 12 Tolkien lost his mother to acute diabetes. However Mabel Tolkien had assigned the guardianship of her children to her close friend Fr. Francis Xavier Morgan prior of her death. Tolkien later revealed that his guardian has played an immense into his education as he had taught forgiveness and charity.
As a child Tolkien attended King Edward's School and later St. Philip's School. During his time at King Edward's School, Tolkien and three of his friends formed a semi-secret society known as the T.C.B.S. At the age of 16 Tolkien me this future spouse Edith Mary Bratt, who was three years older than him. In 1916 the couple married and remained together until Bratt's death.
During World War I, Tolkien served in the 11th Battalion of the British Expeditionary Forces. He arrived in France on the 4th of June 1916 and after a short training as a signals officer took part in the Battle of the Somme. He was later removed from combat due to the fact that he suffered from severe health complications.
After the end of the world, Tolkien dedicated his life to writing. Today the most notable works of J.R.R Tolkien are "The Hobbit", "The Lord of the Rings" and "The Silmarillion". Tolkien dies on the 2nd of September, 1973.
As you can see the area of Chelsea has had is fair share of extraordinary residents. So if are considering a move to the English capital, you should seriously consider the area of Chelsea as a final destination. Aside of its glamour the area has also numerous amenities and services companies such as man and van companies that can make your move and life easier. Speaking of man and van companies know that there are numerous firms in the area that work with affordable prices.
Now that you know more about the area of Chelsea, we are certain that you will be able to make a more precisely decision whether the area is ideal for you and your family.
---
About the Author:
Prev: «
Overpriced Homes – The No-Sellers
Next:
The Operators' License
»