For a second year straight, Egerton Cres in the Royal Borough of Kensington and Chelsea is named the most expensive residential street on the British Isles. This comes despite the notable drop in house prices during the year.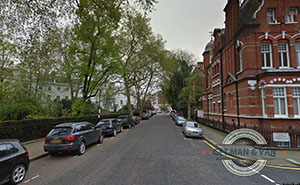 Egerton Cres is a set of elegant, arcing facades, combined with neatly manicured private gardens. The street is rich in every hallmark expected of British exclusivity and affluence. Those people who are able to fork out the cash for a residential property on Britain's most expensive street will perhaps be glad to hear that prices have been sagging a little – more money for the man and van removal service! Joke aside, experts say the locality is perhaps losing some of its lustre after all. Within the last twelve months, the average price of a house on Egerton Cres has dropped by seven hundred and sixty seven thousand pounds, to the 'mere' seven million, three hundred and sixty nine thousand pounds. The decrease is more notable than the previous twelve month period i.e. twenty twelve – twenty thirteen.
Although the decrease in average house prices on Egerton Crescent is enough to buy a couple of decent houses in other parts of London, the situation is not as dire as it may sound. Despite the ups and downs in pricing, six of the most expensive residential streets in England and Wales are still in Kensington and Chelsea. The average house price in the area gravitates around the five million pound mark – this should help local man and van removal companies with customer targeting for sure.
In total, there are fifty so called 'most expensive streets; in the UK. All of them are situated in the south of England (including the capital). Beyond London's Home Counties, properties situated on such streets easily command prices north of three million pounds. The North West of the country also has a few remarkably expensive residential streets to offer. Many of them are situated in Macclesfield, south of Manchester, where many of the wealthier Premier League footballers own properties.
All of this makes an excellent gossip magazine reading material, but in reality the statistics used in the property price reports indicate something much more serious – the now almost unbreachable wealth gap between rich and poor Britons. The average price of a decent home (disregarding its location for argument's sake) is about two hundred and forty two thousand pounds. A 'decent' home on one of England and Wales' most expensive streets would set the family budget back by about three point three million pounds – who cares about the man and van service price, when one is paying a seven figure sum for their home, right.
Kensington and Chelsea, has long kept its high class, affluent image. The same still remains today, though these days property owner profile is changing notably. Many of the people who can actually afford such house in such location are now ultra-wealthy foreigners spending their hard earned (though sometimes questionably) fortunes in the UK. Another characteristic of Kensington and Chelsea is that most of the extremely expensive areas are situated in a tight cluster, unlike other exclusive localities around the country.
---
About the Author:
Prev: «
How Small Can You Go?
Next:
How to Move Your Office
»