The Fiat Ducato began as a joint collaboration between Fiat, Peugeot and Citroen. The project started in the early nineteen eighties, with the first light commercial vehicle being mass produced in nineteen eighty one. Other auto manufacturers also built and sold the Ducato platform under their own badging and naming, though for the purpose of this article focus will be on the Fiat Ducato only. The Ducato combined reliability, functionality and design – something traditionally expected of Italian auto manufacturers. The Ducato was a sturdy platform and ended up as one of the most popular and enduring light commercial vehicles on the European market in the last thirty or so years. Fiat Ducato has been introduced on the North American auto market since twenty thirteen, under the name Ram ProMaster. The original vehicle concept and design was developed by Sevel or SEVEL. The abbreviation is in French, in English it stands for European Light Vehicle Company – a joint venture enterprise established and launched by Fiat, Peugeot and Citroen in nineteen seventy six.
In Europe, Fiat Ducato is produced at the Sevel Sud Factory in Italy. Around the world, Ducato vehicles are also manufactured and assembled in Brazil, Turkey, Iran, Mexico and Russia. Since its introduction in nineteen eighty one, the Ducato has sold more than two and a half million units worldwide.
An interesting fact about the Ducato – it is the most widely used and preferred vehicle platform for motorhomes in Europe. More than two thirds of all (versions) of motorhomes in Europe are based on the Fiat Ducato.
Work on the first generation of Ducatos began in the late nineteen seventies. As mentioned other manufacturers, mainly Peugeot and Citroen also took part in the joint venture project. Initially all vehicles of participating brands were assembled at the Sevel factory in Central Italy. Production was going to branch out later on. Mark 1 Ducatos had a pretty long lifespan – the official manufacturing period for Mk1's started in nineteen eighty one and ended in nineteen ninety three.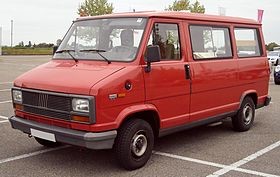 Pictured: 1st Generation Fiat Ducato '81 – '93
| | |
| --- | --- |
| Engine (Ducato Mk1) | Body Type (Ducato Mk1) |
| 1.8 Litre 4 Cylinder Petrol | 3 Door Van |
| 2.0 Litre 4 Cylinder Petrol | 2 Door Pickup |
| 1.9 Litre 4 Cylinder Diesel | – |
| 2.5 Litre 4 Cylinder Diesel | – |
For the Ducato, Fiat followed their traditional level of vehicle equipment – S and SX, with SX featuring more extras and functions. At the time of the Ducato Mk1's development, diesel engines were being widely fitted on many commercial vehicles (though they weren't as popular as today). In light of this, Fiat kitted the Ducato with a one point nine litre diesel engine. Of course the van could also be ordered with the more popular two litre, four cylinder petrol engine. First generation Fiat Ducato came in three different payload capacities: Ducato 10 – respectively 1.0 ton capacity, Ducato 13 with thirteen hundred kilo capacity, Ducato 14 meaning one point four tons load capacity, and the Ducato Maxi or Ducato 18 – respectively eighteen hundred kilo payload capacity.
The standard wheelbase vehicle was sold as Fiat Ducato, whereas the long wheelbase vehicle was marketed and sold under the name of Fiat Talento.
In nineteen ninety four, the Sevel collaboration released the second generation of Fiat Ducato on the European market. Ducato Mark 2 was in production from ninety four to two thousand six – another decent period of time from auto industry point of view. Again, the vehicle was badged and named differently as per the different manufacturers taking part in the collaborative project. In the UK, Mark2 Ducato was sold under a totally different name. Mark2 Ducatos were well engineered vehicles featuring a wide range of (now) mainly diesel engines. Second generation Ducatos also offered potential buyers more choice in terms of cab and chassis types. All Mark2's were in compliance with Euro 3 standards. The new Ducatos also provided for programmed maintenance and scheduled management – saving owners some serious (unexpected technical) hassles.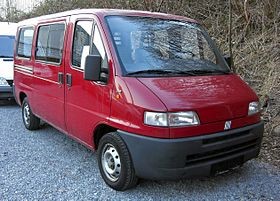 Pictured: 2nd Generation Fiat Ducato '94 – '06
| | |
| --- | --- |
| Engine (Ducato Mk2) | Body Type (Ducato Mk2) |
| 2.0 Litre 4 Cylinder Petrol | 3 Door Van |
| 1.9 Litre 4 Cylinder Diesel | 4 Door Van |
| 1.9 Litre 4 Cylinder Turbo Diesel | 2 Door Pickup |
| 1.9 Litre 4 Cylinder Diesel (Fiat) | – |
| 1.9 Litre 4 Cylinder Turbo Diesel (Fiat) | – |
| 2.0 Litre 4 Cylinder Turbo Diesel | – |
| 2.3 Litre 4 Cylinder Turbo Diesel 16V (Fiat) | – |
| 2.5 Litre 4 Cylinder Diesel Sofim (Fiat) | – |
| 2.5 Litre 4 Cylinder Turbo Diesel Sofim (Fiat) | – |
| 2.8 Litre 4 Cylinder Diesel Sofim (Fiat) | – |
| 2.8 Litre 4 Cylinder Turbo Diesel Sofim | – |
As one would expect of a conventional Italian (commercial) vehicle, the Ducato Mark2 combined functionality, comfort and practicality. The Mk2 vehicle range included a proper cargo version – Ducato Goods Transport, a passenger version – Ducato Passenger Transport, and the Ducato Combi – a combined version of the cargo and passenger variants. For the second generation of Ducatos, Fiat maintained the familiar payload capacity: Ducato 10 for the one tonner vehicle, Ducato 14 for the fourteen hundred kilo vehicle, and the Ducato Maxi 18 – able to carry nearly two tons of payload.
In two thousand two, Fiat decided it was time for a facelift. In light of this the then-current model Ducato received restyled exterior features, also a remodelled front grill. Fiat also changed around some of the engines introducing new ones and dropping some of the diesels. Payload capacity was also addressed and seriously improved. Mark2 Facelift vehicle range began with the Ducato 29 – two point nine tons respectively, then Ducato 30 – three ton load capacity, Ducato 33 – three point three ton capacity, and of course the Ducato Maxi, which was now designated as Ducato 35 for its impressive three and half ton hauling capacity. The facelifted Ducato is still produced in a number of locations around the world, including Russia and Brazil, of course the model has received many improvements and upgrades in due time in order to comply with new regulations.
The third generation of Ducato vans hit the market in late two thousand six. At the moment this is the current shape/version of the model, though it is expected for a new Ducato to come out not too long from now. Staying true to tradition, Fiat maintained the original three Ducato vehicle formats which had proven to be quite successful in previous generations, these are Ducato Goods Transport, Ducato People Transport and the Ducato Combi. However, now buyers could choose from an extensive range of cab and chassis formats for different purposes. The tonnage of the Mark3 Ducatos is as follows 3 tons / 3.3 tons / 3.5 tons (Maxi), and the new 4 tons (Maxi).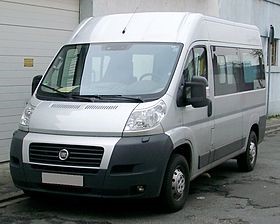 Pictured: 3rd Generation Ducato '06 – present
| | |
| --- | --- |
| Engine (Ducato Mk2) | Body Type (Ducato Mk2) |
| 2.2 Litre 4 Cylinder Diesel (discount. '11) EU Only | 3 Door Van |
| 2.0 Litre 4 Cylinder Diesel (starting '11) EU Only | 4 Door Van |
| 2.3 litre 4 Cylinder Diesel (except North America) | 2 Door Pickup |
| 3.0 Litre 4 Cylinder Diesel (all markets) | – |
| 3.6 Litre (V) 6 Cylinder Petrol ('13 US & Canada) | – |
Third generation Ducatos have also been marketed and sold in North America and Mexico. In the US, the vehicle is known as Ram ProMaster and comes in a sufficient variety of cab and chassis versions. In Mexico, Ducato is sold under the Manager nametag.
---
About the Author:
Prev: «
More Outrageous eBay Listings
Next:
Involving the Kids in Moving Houses
»