Many people come to London for a variety of reasons – for jobs, the culture, education, for the experience in living in one of the largest metropolises in the world.
There might be many nice places in the capital, but Mayfair, located just in the heart of the City of Westminster and bordering Hyde Park is probably the best among them. Central location, easy access to all the vital spots in London, affluence and magnificent architecture – those are just some of the reasons why W1 Mayfair should be on your list with dream places to live in. Another, equally important one is the fact that located here are some of the best restaurants and bars in London. This is a considerable achievement in its own right.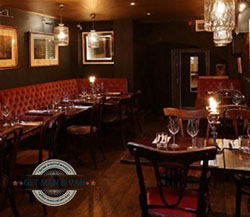 Kitty Fisher's is one of those places. The place is names after an 18th century courtesan, who apparently was pretty famous. It is on 10 Shepherd Mkt. For what it's worth, Kitty Fisher's is one of the best places to taste British cuisine with Spanish influences in a great atmosphere.
19 Berkley Street is home to Bocconico, where you will taste the best pizza in town. This Italian restaurant is actually part of a Russian chain, but these multi-cultural eclectics are actually among the most charming traits of London, aren't they? In addition to tasty pizzas with lots of extravagant toppings, you are going to have the chance to taste probably the best pasta in your life here. The elegant decoration and impeccable service only add up to the experience.
Chez Chow is the place in Mayfair where you go when you want a cocktail that is out of this world. In addition to an extensive cocktail list, you will have the chance to taste Asian bar food like popcorn shrimp and other such extravaganza. Fun fact, the place is named after a cute stray Chow Chow dog which is among the most famous residents of the street.
Bonhams on 101 Bond Street is usually known as an auction house where you can see bidding on ridiculously expensive items that you will probably never be able to afford – or be willing to spend so much money on. What you probably do not know is that the place has a restaurant that is great for lunch or breakfast, especially if you work somewhere nearby. The sika deer with chestnut and juniper purée is particularly delightful. And so is all the art on the wall, especially combined with the long wine list.
The Colony Grill Room on 8 Balderton Street serves American and European comfort food in great atmosphere that you would definitely enjoy, especially if you like eating exquisite food in an art-deco style atmosphere.
Have we bought you yet? W1 is the ultimate place to be if you like eating tasty food in great places. Call your man and van contractor and start preparing for your relocation in Mayfair. Come for the food and stay… for everything, including the food.
---
About the Author:
Prev: «
The sumptuous Savoy Hotel
Next:
Things You Might Not Know About South London
»