If you are moving to London from outside the capital, no matter whether it is because of your new job requirements, or just because you need a change in your life, may be quite exciting but also problematic.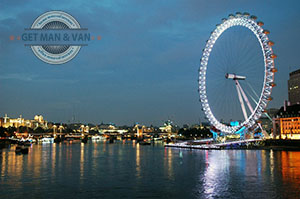 London is large and multi-faced city and you should not take your relocation here lightly. On top of everything, property and rent prices here right now are going through the roof, so your budget might, no matter how unpleasant this may sound, play a vital role in outlining the plan for your move. It all depends on the reason you are going to London though. You should try find an affordable place near your work and the school your kids are going to go. It should also be well connected via highways, train and Tube to other parts of London. Once you have done that and all the paperwork in ready, you can move on to planning and executing the actual relocation.
The first thing to do, of course, is to find a man and van moving contractor that operates between the area that you are currently resident of, and the London borough that you have picked up to set up your home in. That might not be as hard a task as you might think, because many man and van companies today offer their services for moving in London too, not only within the boundaries of the metropolitan area. What you should look for in the company that you are going to hire is, of course, feedback from clients – you can check out the website of the contactor you have laid your eyes on, or look for other online reviews in specialized websites – there are many such places on the Internet. The other thing is, of course, the price – ask for quotes from multiple contractors just like Get Man and Van and pick up those that offer you the best deal.
Even if you think that you can manage your removal on your own, and thus save money on hiring man and van movers, you would better not do that. Your car might be suitable for transporting boxes of clothes and other smaller items, but if you are taking your furniture with you, you have no chance fitting the sofa in your Volkswagen. If you are not taking any voluminous items, you will still need to make multiple trips in order to move everything necessary, which is a waste of time and fuel money. It is going to be much cheaper to just hire a man with a van and get the job done in a single journey, for no more than a single day.
The most important thing is to stay calm and do not let panic take hold of you. Every home relocation is stressful, and this is particularly true for moving in London, which is one of the busiest cities in the world today. But if you are relaxed and planned your move carefully, everything is going to turn out just fine.
---
About the Author:
Prev: «
Moving – the Perfect Time to Do the Right Thing
Next:
Few Facts About the Tower of London Everybody Should Know
»