The professional removals industry and its lightweight version – the man and van industry relies solely on the use of specialised transport vehicles, commonly known as vans. Ever wondered how the van came about and how it became the preferred tool of the trade? Here is a quick history of the humble work van – the backbone of today's removal industry.
The English word "van" describes a specialised motor vehicle designed for transportation of people and/or goods. Generally a van is a vehicle that is smaller than a conventional truck, but larger than a passenger car. However, the word van is actually used in different English speaking regions to describe slightly different types of transport vehicles. Originally, the word van was a shortened say and spell for the word "caravan" – the word contraction became popular in the eighteen hundreds, when caravans were still horse drawn vehicles. The first official record of a 'van' comes from eighteen twenty nine, and specifically means a covered, horse-drawn vehicle used for transportation of goods. Having said this, the actual origin of a vehicle called 'caravan' (in United Kingdom) dates back to the early sixteen hundreds. At the same time, the word caravan also means a moving convoy of caravans (later on vans). These days, the word 'van' has overlapping but slightly different meaning in English speaking countries across the world. Generally, though it refers to the common boxy looking work vehicle most people are familiar with.
In Australian English the word van refers to the following types of vehicles: A minivan, or a passenger minibus. Also, it is used to describe a traditional Australian vehicle known as a panel van. Panel vans are similar to covered-tray pickups. These panel vans were manufactured by Australian car manufacturers Ford and Holden. In Australia, a full sized van is also called a van, however if the vehicle is used for passenger transport and fits more than seven or eight people on board – it is likely to be called a minibus. Australians also use the word van to describe a caravan, which in the United States would be called a travel trailer.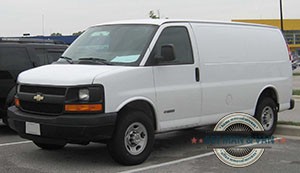 In the UK, the word van is generally reserved for vehicles (traveling either on road or rail) intended solely for transportation of goods and items. In UK terms, a 'van' for carrying people is usually called a people carrier (people mover in AU English) or MPV which stands for multi-purpose vehicle. In British English, a larger people mover could also be referred to as a minibus. British newspaper The Telegraph was the first organisation to officially introduce the term 'white van man' which refers to the traditional British working class individual who runs a small business, for instance a van delivery company. These days, British people understand the term 'man and van' as the light removals industry, usually represented by a small business operation (sometimes even a sole proprietor) providing pick up, delivery and relocation services for personal items and commercial goods.