Securing and using professional logistics services is accompanied by lots of paperwork, simply because transporting people's livelihood belongings over international borders (or shorter distances) is a complex, high responsibility process which is regulated by many industry and legislative formalities.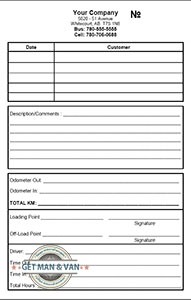 Paperwork is also an integral part of domestic man and van removal services. Pretty much any type of man and van removal, either big or small needs filling out some forms. In the UK, perhaps the most important removal service document is the bill of lading. Different countries around the world have different style bill of lading but the essence of the document always stays the same.
In most cases, the bill of lading is an integral part, or serves as the contract between the man and van removal company and the customer in question. Basically, the bill of lading constitutes the rights and responsibilities of the two parties involved in the removal. The bill of lading can be described as an official legal document ensuring the shipment of goods and items from one location to another in a properly organised way. Bills of lading are issued by the man and van service provider in the name of customer. The bill of lading will include thorough details on the condition of items prior to loading, specific means of storage and transportation agreed by the two parties, approximate or estimated delivery times, exact point of delivery, documents required on behalf of customer to release their goods from customs or storage (in many cases the bill of lading itself and some ID will suffice). The bill of lading also outlines the projected costs for the removal.
Overall, the purpose of the bill of lading is to ensure that the items and goods have been transported legally and delivered in tact to the agreed destination in the proper condition they were prior to removal.
The first official bill of lading appeared in Florence, Italy in fifteen twenty six. The document's layout and purpose was pretty much the same as today's bills of lading. Though back in those days, the bills of lading were mainly used for maritime shipping.
There are a number of important items or requisites which should be present on any bill of lading in order to make it valid and legal, some of them are:
Name and address of shipper i.e. customer;
City/state/territory of origin of the goods destined for removal;
The exact date on which goods are to be collected/picked up for removal;
Specific method of transportation, including intermodal transportation;
Unique shipment number – can also be used for tracking of items;
The exact and full name of the man and van company doing the removal;
Contact details of company agent if there is such;
Name and contact details of person receiving the goods upon delivery;
Address of final destination;
The planned transport route, including details for docks and storage facilities;
Registration/identification number of the transport vehicle;
Number of items/packages, their weight, contents specific handling instructions;
Any additional legal obligations and service terms applicable to both parties;
---
About the Author:
Prev: «
The Historic City of York, Home of York Castle
Next:
Pack Your Clothes for the Move
»