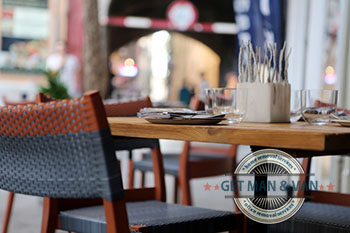 London is full of interesting, and some genuinely odd places. Those include even restaurants. Some of the finer establishments of the industry that are scattered across the territory of the capital are absolute musts for people who like unconventional eateries and tasty cuisine. If you are moving into the areas where the restaurants on our list are located, your exploration of your new place of residence should definitely begin from there. A nice meal in fun surroundings is the best way to unwind after a stressful home moving experience, trust us. Even if those diners and restaurants are not in your immediate surroundings, make sure to check them out anyway next time you are feeling up to an adventure.
Bunga Bunga on 37 Battersea Bridge Road in Battersea is one of the first places you should go to when you start hunting for exotic restaurants in London. The place offers some of the best Italian cuisine in the capital, but it is not the food that is so extraordinary here. Bunga Bunga's name is a reference to the rather obscene way in which former Italian Prime Minister Silvio Berlusconi called the crazy parties in his mansion. The entrance is an Italian phone box. The bar you will see immediately after that will be shaped like the gondolas in the canals of Venice, there are pictures of the actual Venice all over this section, and as you go further in, you will see a stage shaped like the Coliseum. The actual restaurant is a sort of a shrine dedicated to Berlusconi. It is a rather odd and even surreal experience eating there.
53 Cleveland Street in Fitzrovia is home to one of those places that once you enter, you will feel like you have been transported in a land there time does not exist. The Archipelago is a restaurant specializing in some of the strangest dishes that you can taste in London – crocodile or Wildebeest for main, scorpion deserts etc. The atmosphere is even more surreal than that in Bunga Bunga due to the art works, paraphernalia and the exotic plants that have been gathered from all corners of the world here.
Burger & Lobster on 29 Charges Street in Mayfair surely feels like your regular restaurant, or even just a fancy diner, but don't be tricked by the modest surroundings. This is one of our favorite places to eat in London, and you will be instantly hooked up by the menu, mainly because it is contained in the very name of the establishment. No, seriously, a burger or a lobster with several side-dishes are literally your only choice here. Rest assured though that those are going to be the best burgers and lobsters that you will taste in your life.
La Bodega Negra on Old Compton St in Soho is our final offer for the day. The entrance is through an old sex shop, the surroundings are raw and the food is great. What more can one hope to find in such a place?
---
About the Author:
Prev: «
How to relocate from a small town to a big city because of a job
Next:
10 interesting facts about English
»