Most people who know a thing or two about moving house will know how important, even essential it is for items and objects to be packed properly. Good packing will ensure safer handling and less chance of damage during transportation from A to B. Problem with packing is that the process itself is tricky, and results usually vary. Some items are really awkward to pack, others are too heavy – issues which make packing all the more problematic. But how do specialised man and van removal people do it? Answer is practice and expertise. Here are some basic tips and bits of advice coming straight from the horse's mouth so to speak. Using some of these clever tips will help you pack like a pro.
First and foremost – purchase the right set of packing and wrapping materials. Opt for decent quality materials and supplies as you need durability and strength during handling and transit. If tempted to use newspapers instead of wrapping paper – don't because the ink will dirty your items (some might be permanently stained).
The easiest way to deal with packing is to do one room at a time – always do one room at a time, finish it, and then move on. It is highly recommended to use a colour code system to designate which box or crate goes where. For instance, bedroom boxes are marked in red, kitchen boxes are marked in yellow, lounge room ones in blue etc. you get the point. Colour coding not only helps you keep track of things, but also makes unpacking after delivery quicker and more efficient.
How to go about packing different objects:
Beds – disassemble the bed frame, tie cross-pieces and rails together using tape. If necessary mark on the tape which pieces go where (makes reassembly easier), use a mattress cover for the mattress. Alternatively you can use a large piece of plastic sheeting instead.
Bicycles, prams etc. – fold the bike or pram if possible, keep handlebars and such at a right angle to save space. Chains, pedals, wheels etc. must be wrapped properly and individually to prevent staining and soiling to other items during transit.
Books – books are heavy so use a high strength box. Pack books separately – don't mix them with other items, pack books flat in the box and fill gaps and voids with packing paper or bubble wrap (if necessary).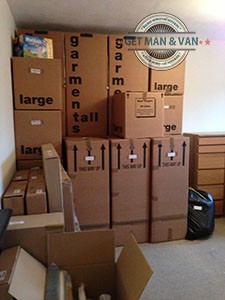 Bureaus & dressers – pack drawers with small breakable items, pack voids with wrapping paper or bubble wrap. Strap the drawers using tape, but apply plastic sheeting before strapping with tape.
Chairs – wrap legs and arms of chairs properly to prevent damage, armless chairs are best bundled together seat to seat and then strapped. It is recommended to put a blanket or other protective material between seats before strapping them together.
Furniture – take your time and be patient when packing and securing furniture, it will be worth it. Wrap furniture pieces using removal blankets. This will prevent scratches and will keep upholstery clean. When wrapping, be sure to do it tight as you don't want any snags during handling.
---
About the Author:
Prev: «
Moving from one rented place to another
Next:
Notable ships from the Royal Navy
»