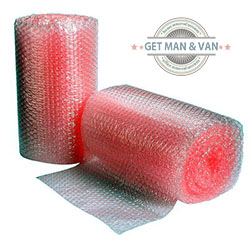 As any other specific process, man and van property removals also have their own terminology, which also spills over to packing and wrapping supplies. When people think moving supplies, they usually picture stacks of boxes, different types of tape, markers etc. Indeed, these are all integral items in the list of moving supplies used by man and van removal people, but there are also less common, but rather interesting examples of equipment and materials which movers use on a daily basis.
Here are some of the more common items as well as their technical names and purpose:
Appliance Dolly – Generally, the dolly can be described as a small cart used for quick shifting of heavy or bulky items. The dolly also helps man and van removal people with loading and unloading such items (including appliances of course) on board removal transport vehicles. The appliance dolly makes use of strategically positioned, heavy duty straps which keep the appliance in place during handling and loading.
Antistatic Bubble Wrap – The material looks much like its regular counterpart, but it is usually pink coloured in order to distinguish between the two. Antistatic Bubble Wrap is basically your normal bubble wrap though with antistatic charge properties. The wrap is mostly used for protection of audio and video equipment and delicate electronics. Using antistatic bubble wrap is important for keeping electronics dust-free during the removal.
Corrugated – The term usually refers to corrugated cardboard boxes. Corrugated cardboard is stronger than normal cardboard and provides for more protection. Corrugated cardboard is also available in rolls. The rolls are used for wrapping and securing different items of odd shape. The corrugated part of the box so to speak, is the zigzag patterned layer of cardboard sandwiched between the two outer layers of cardboard that make up the box wall.
Dish Cells – These are used for securing crockery and dishware from banging against each other inside boxes, as well as keeping them safe from external impacts. When stacked and arranged properly, dish cells also prevent boxes from caving in. Basically, dish cells look like cardboard inserts which form cubicles inside the box.
Shrink Wrap – This is a thick, heat adhered plastic film which is used for protecting different large items during removal, mostly furniture. Shrink wrap provides good protection but due to its relatively higher cost, it is not used on typical items. Shrink wrap is thicker and stronger than other wrapping films available. If required, the man and van removal people can wrap all furniture due for removal using the Shrink Wrap for extra protection.
Stretch Wrap – That's right – you guessed it – the opposite of shrink wrap. Stretch wrap is the thin plastic film which goes over the removal blankets covering items during handling and relocation. Stretch wrap does not require heat in order to adhere. Most of the time, stretch wrap is used to protect mainly furniture from precipitation, sweat, perhaps tearing to an extent too.
There are also many other items in the movers' arsenal, though which ones they use will depend on the specifics of your removal and requirements you have.
---
About the Author:
Prev: «
A brave proposition for the ban of traffic on Oxford Street
Next:
Moving Places – Important Information for the Movers
»