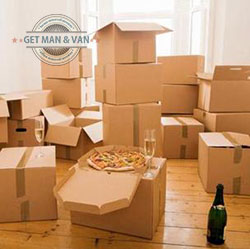 When a decision has been made to use specialised man and van removals, the selected removal company would need a few bits of important information from customers in order to organise and conduct the removal in the most efficient and affordable way. Providing the movers with sufficient information prior to the relocation will also help them prepare a more accurate quote which is quite important too.
So, here are some of the essential job details needed by the movers:
The approximate number or amount of furniture due for removal – although rough, this estimation will help the man and van removal people choose the right size vehicle. If the removal vehicle engaged for the job is too small then there is the risk of having to shuttle back and forth between the two destinations, which is uneconomical and inefficient. The idea here is to have your items relocated with the fewest possible journeys between A and B.
Let the movers know if there are any pieces of furniture or other interior items which will not fit through the door. This is important as many of the better man and van removal companies can also disassemble and then reassemble furniture pieces in order to relocate them safely.
If the man and van removal people will also handle the packing and securing of your items, you need to provide them with a rough estimate of how many items are there, this is needed so that the movers can figure out approximately how long it will take to pack and also what number and size boxes are required.
Let the movers know exactly what time you need them to be at your place – this is important in order to avoid delays caused by traffic or other circumstances. If possible schedule the removal for an off-peak time as this will bring down congestion charges and facilitate a quicker completion of the job.
Provide the movers with clear instructions and directions on how to get to your new property – wondering around unfamiliar parts of town is frustrating for everyone. Remember that removal vans run on fuel and someone has to pay for it in the end – less waste means fewer service costs.

Arrange parking for the movers on removal day

– this applies to the property being vacated, and the one you are moving into. By default, parking fees are covered by customers. Parking tickets are also covered by customers so it is better to arrange proper parking instead of paying fines.
Provide the movers with info on where the furniture pieces go after delivery. Usually a basic plan or list of rooms and furniture pieces will suffice. This information will also help the movers load and unload the removal van in the correct order thus saving time and effort.
Additional information might also be required depending on the scale, complexity and timeframe of your removal request. The more details you provide the more efficient and affordable your removal will be.
---
About the Author:
Prev: «
Moving Supplies Lingo
Next:
The Removal Industry 101
»