London is home to several world famous public houses that attract both local and foreign visitors by the number. Some of these pubs are amongst the oldest buildings in the English capital and today we will turn your attention towards them.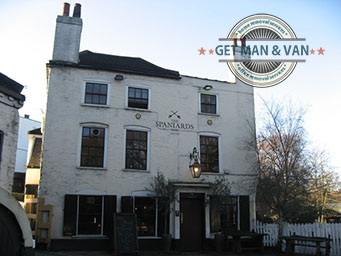 Spaniards Inn – Established in 1585, this historic public house is located in the district of Hampstead. For over two centuries it was an underground pub as it didn't have the necessary licenses. It was in the 18th century that the Spaniards Inn was recorded as a public house. The establishment lies in close proximity to the ancient parkland of Hampstead Heath. In 2007 it was recognised as the London pub that serves the best food while in 2009 it won the award for the best public house in the United Kingdom. So, as soon as your move is over, go grab a beer or meal at the Spaniards Inn. Know that you can ease dramatically your relocation by using professional man and van services.
Prospect of Whitby – Situated on the banks of the world famous Thames River this pub was founded in 1543 and was known as Devils Tavern at the time. During the 17th century the public house became an infamous location as its clients consisted mostly of criminals and smugglers. The original pub was destroyed by fire in the 18th century and the Prospect of Whitby was rebuilt at its place. The establishment is named after a ship which during that time used to anchor in close proximity to the pub. Today the public house is amongst London finest and a testament to this is the fact that it has featured in numerous television and film productions.
The George Inn – Located in close proximity to the prolific London Bridge, the George Inn was opened in 1677. It is the second incarnation of the establishment was the original which was located on the same site was destroyed by fire. It is currently London's only surviving galleried coaching inn and is owned by the National Trust. The George Inn was initially called George and the Dragon and according to historical records is the oldest still functioning public house in the English capital. Many travelers described the establishment as a must visit landmark, so as soon as your relocation is over and you have paid the man and van company, take your time to explore this astonishing pub which will mostly likely take you back in time.
Ye Old Cheshire Cheese – This public house is listed as a Grade II structure and dates back to the late 17th century. However its cellar is much older as it is incorporated in the ruins of a 13th century monastery. The pub lies in the City of London and is owned by the Samuel Smith Brewery. It is currently one of the capital's most acclaimed establishments and tends to attract people by the number on a daily basis.
Other notable old public houses in London are:
The Olde Wine Shades founded in 1663
Ye Olde Mitre Tavern founded in 1546
Jamaica Wine House founded in 1652
White Swan founded in 1700
Red Lion founded in 1434