Moving houses is definitely among the more stressful experiences that a person goes through in life. The thing is that in order for a relocation project to be just as successful as you hope it to, there are quite a few things that you need to plan and take into consideration. From a strategic viewpoint, it is always preferable to have a few people, some of them specialists in the field of professional removals, by your side working on the details of your project. If you are on your own, then you need to give yourself enough time to actually get everything done on schedule and without forgetting something. Since we know that no matter how prepared one feels, chances are that they are always going to forget certain important aspects of the job, here we have taken the time to point out three major factors and parts of a relocation that are usually overlooked by even the most diligent home movers.
Arranging storage
First and foremost, a secure place that you can put away some or all of your goods at is often needed, especially in cases when:
You are moving from a bigger to a smaller property – house or an apartment, for one reason or another.
You will not be able to immediately move into your new home, but instead, you will stay with friends, relatives, at a hotel etc. for a number of days.
You will be away for some time after you relocate, e.g. you will go on a vacation, and you will not start unpacking and arranging everything right away.
In those cases, you will need a reliable storage service in London that you can fall back to.
Thinking about the pets
Pets are very sensitive when it comes to changing environments and you should take this into account when you are preparing for your relocation. The simple fact of the matter is that dogs and cats tend to get lost much more often during domestic relocations than in any other case. So, making the necessary arrangements for a pet-friendly home moving experience is truly vital. You can even meditate on the option to put away your dog and/or cat into a pet hotel for the time being, thus reducing the chance for stress on the moving day for the animal, as well as for yourself and your family.
The weather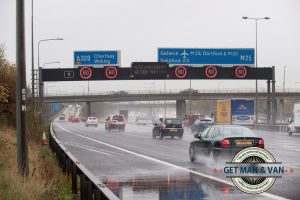 The weather in London is notoriously unreliable and it can actually affect your moving schedule and overall removal experience. It can be due to a snowstorm, pouring rain or a heat wave – all those cases call for immediate attention and actually doing your best to be prepared. Do not let nature surprise you. The way to do that is to actually look at the forecast regularly as your date approaches, and if there is a chance for bad weather, you need to make the necessary arrangements with the moving company or even postpone the affair with a day or two.
Capture: Bad weather can make traffic worse and affect your move in many other ways
---
About the Author:
Prev: «
Checking into London – Time to Wrap Up & Go
Next:
Tips on Avoiding Identity Theft When Moving Home
»