Some of the world's most fascinating edifices are situated in the United Kingdom and large portions of them have been designed by several of the best British architects to have ever lived. Here are some of the most renowned and awarder building designer in the history of the United Kingdom.
Christopher Wren
Sir Christopher Wren is arguably the most prominent architect in British history. He was an alumnus of the University of Oxford and founder of the Royal Society. Aside of being an architect he was also an anatomist, geometer, mathematician, physicist and astronomer, and his work has influence gravely scientists such as Blaise Pascal and Isaac Newton. He is best known for designing St. Paul's Cathedral in London and for rebuilding the English capital of after the Great Fire of 1666. Other notable edifices of Christopher Wren's are:
Sheldonian Theatre in Oxford
Marlborough House in Westminster, London
The Royal Observatory in Greenwich, London
Kensington Palace in Kensington and Chelsea, London
Temple Bar in London
Hampton Court Palace in Richmond, London
Once your removal to London is over you can take your time and visit all the aforementioned buildings along with the other structures that Christopher Wren has created and constructed throughout his career.
Richard Rogers
Richard George Rogers, Baron Rogers of Riverside is an Italian-born British architected who is well-known for his modern and high-tech architectural style. He attended the Architectural Association School of Architecture in London before obtaining his master degree from the Yale School of Architecture in New Haven, USA. His is perhaps best known for designing the world famous   Pompidou Centre in Paris, France. Richard Roger is also the man responsible for the creation of the Lloyd's Building, Millennium Dome, Madrid-Barajas Airport Terminal 4, European Court of Human Rights, Senedd, Heathrow Airport Terminal 5 and many, many more. Throughout his career he has won numerous awards including:
RIBA Gold Medal
RIBA Stirling Prize
Minerva Medal
Thomas Jefferson Medal
Prtizker Prize
James Stirling
Born in Glasgow, Scotland, Sir James Frazer Stirling is credited to be one of the most influential architects of the second half of the 20th century. Throughout his career Stirling has collaborated with numerous prominent building designers including James Gowan and Michael Wilford with whom he worked until his death in 1992. He designed structures such as the History Faculty Library of Cambridge, Clore Gallery, Neue Staatsgalerie, Andrew Melville Hall and many, many more. He has also worked on several edifices in London so make sure to visit them as soon as your domestic or commercial removal is completed.
Charles Barry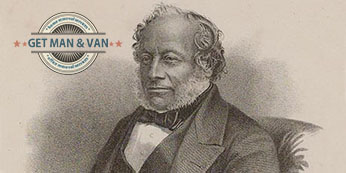 Charles Barry is famous for rebuilding the Palace of Westminster during the 1850s. He credited for implementing Italian architecture into British architecture. Aside of being a highly acclaimed edifice designer, Barry was also well-known for his landscaping plans which he based on the Italian Renaissance style. He has also created the Manchester Art Gallery, Holy Trinity Church, Highclere Castle, Cliveden and numerous more high profile structures throughout the United Kingdom.
---
About the Author:
Prev: «
How a removal quote is calculated?
Next:
Self driving lorries are here
»