Among the most frequent tips one receives in relation to the process of picking up a man and van company is to fish for as many quotes as possible. This simply means that you should look up which moving contractors operate in your area and then call them to receive an estimate of the costs of your particular project. Thus you will be able to pick up the best deal and not put your budget in unnecessary strain. But how exactly is a removal quote estimated? There are several key factors:
That designated the actual size of the property that you are relocating. It could be a one bedroom apartment, a mansion or just a single bulky piece of furniture. Naturally the larger the floor space to be moved, the higher the price for the actual removal.
You are opting for a man and van service after all, so the number of movers that you are going to hire in order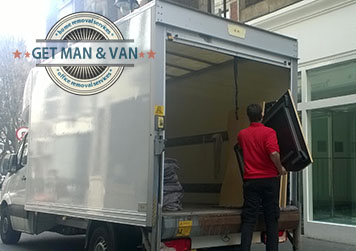 to give you hand with packing and moving your goods is naturally going to affect the overall costs of the service. Usually moving companies do not send more than two people for a man and van service, because that is the optimal number required for loading a van. On the other hand, if the job is particularly large or complex, you might need three or even more movers. Alternatively, single item removals and delivery jobs are best handled by a single mover.
The moving industry employs a variety of vans that are different in size. There are small, mid-sized and large vans. The bigger the vehicle, the bigger the fuel consumption, and respectively – the overall quote.
One of the big expenses involved in a moving service is the fuel that the removal vans require. Greater distances, as well as high-traffic that leads to higher fuel-consumption, lead to an increase in the prices. Don't worry though, a good moving contractor is always able to determine the optimal route on which to carry out a job.
Many areas, especially in big cities, have parking restrictions. You might need to pay a fee and get a permit in order to have a van parked in front of your property on your moving day. That fee would be added to your quote.
If you want a full Goods in Transit insurance, you will usually be required to pay separately for it.
Special needs and requirements
Complications like stairs, lack of elevator, narrow hallways or your individual preferences –for the manner in which the relocation is to be handled may reflect on your quote. For example weekend and late-night operations are usually charged more. Any special arrangements that need to be made in the process of planning and carrying out your moving job should be negotiated with the moving company so that you can reach the optimal price. Just inform your movers in advance about such things.
---
About the Author:
Prev: «
Taxi and Man and Van
Next:
A few of the best architects in the history of Britain
»