Relocating your office is one of the important things that you are going to do that would determine the future of your company. The faster you carry out the job, the better, because once you finish it you are going to have time to focus on the important issues of managing the development of your business at the new place.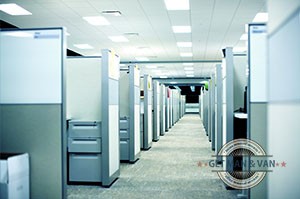 Having a man and van contractor to help you complete the job on time and with as little disturbance in the business process as possible is of course very important, but in order to make your contribution to the project and the work of the technicians easier, thus ensuring optimal results, you might want to follow some of the tips described below. Having them in mind is going to make your office removal much easier.
Packing and unpacking

is crucial when relocating offices, because time is severely limited. If you do not want to waste this precious resource, just use plastic reusable totes in order to speed up the process. Files, books and office supplies will go perfectly in the totes.
Before the people from the man and van company arrive, you should make sure that the drawers of all file cabinets that you are going to get moved – either to the new office or to storage – are completely emptied. This is done so mainly because files are pretty heavy and they can cause damage to the cabinets themselves during transportation. This is where you use the totes from the first tip.
When

dealing with sensitive equipment

you should be very careful. Even the smallest mistake can cause damage to pretty expensive items like computers, scanners and printers. That is why you should consider using carts on which to load the equipment and roll it to the van to be loaded. There are special computer carts, but an ordinary library cart is also going to do the trick. Carts make transportation of equipment much easier, because thus you will not have to pack the items, which cuts down the time for preparation of the whole office relocation project considerably.

A floor plan

for the new office is an absolute must. Don't take this the wrong way – we know you have a clear idea how your new office is going to look like, but your movers and employees should too, so that they know exactly where everything is supposed to be unloaded and unpacked in. Preparing a detailed floor plan may take up some of your time, but it is definitely going to be worth it, because you will avoid any misunderstandings.
A clear

labeling system

comes last, but not least important here. You should mark the contents of every box that you will have loaded on the van. This way it would be much easier for you to check out if everything has been collected and you will make the unpacking process and the preparation of your new office for work much more optimized.
---
About the Author:
Prev: «
Greatest British Generals
Next:
That's How You Make a Removal Count
»