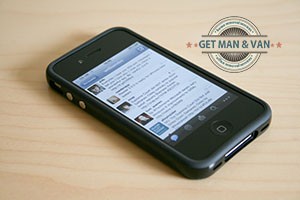 Moving overseas can be an exciting time, even once in a lifetime opportunity for many people. One such step is a major transition in life and there is a lot to consider and account for. From paperwork to accommodation and all in between, people moving abroad have their hands full. In the whole commotion of choosing the right man and van removal company, sorting out accommodation etc. it is easy to overlook some of the essentials of modern day life in another country – such as telecommunications. Most people would turn their smartphone or mobile device on the moment they touchdown in their new home country, no surprises there. Although most devices these days are fully compatible with the networks of many other countries, there are also certain fundamental differences and factors to consider.
First of all, there are roaming charges. When roaming, your device uses the infrastructure/network/signal available throughout the country where you just landed. Depending on where you are, and where your home network is based, you may be lucky enough to attract very little roaming charges (which is the case with most EU member states). Having said this, there are also countries where roaming charges are quite steep and at the end of the month you'd wish your device didn't work. Avoid this by informing yourself of applicable call and data charges at where you are going, know your roam. In some cases it might be better to purchase a new SIM card supplied by a local telecom. A prepaid SIM card with small amount of credit is hardly the most efficient way to keep in touch but it is a suitable solution until your get your bearings with local telecoms, plus it saves you the potential roaming charges of using your home SIM.
These days, type of network isn't that much of a big deal for modern devices, but if going to a faraway place, where telecoms might be still working at older band/frequency or they support only one or two bands/frequencies, by all means check if your device is compatible. The information you need is usually listed in the opening pages of your device's user manual. These days, hi-tech savvy nations operate anywhere up to 4G networks, which basically a multitude of frequencies (bands) allowing for multiple data transfers at the same time. Most new mobile devices support quad band operation – now that's something your man and van removal people wouldn't have told you.
Depending on where you bought your device, how much it costed and which particular carrier you bought it through, the thing might be network locked. This is still a common practice in most Western and English speaking countries, including AU and NZ. If your device is network locked, then it won't work with a 'foreign' SIM card. First of all consult with your carrier if the device is really locked, if not then you are in the clear. If it is, then ask for it to be unlocked. This can be done by the carrier people who sold you the device, or by an independent company that does this for a (usually small) fee.
---
About the Author:
Prev: «
Home Moving: Loose the Stress
Next:
Employer Assistance for Worker Home Relocation – UK
»