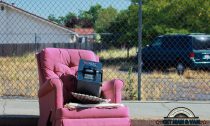 Moving homes is a great occasion to start anew. If you want to part with the majority of your furniture and appliances before you settle down at your new address, but you still feel like not simply throwing it away, there are a few things that you can do in order to give it new life and purpose.
Give to a friend or family member
Regardless of being old, some of your furniture may still be in a usable condition. Ask around your social circle if someone needs a sofa or a dining room table you do not plan on utilising anymore. By giving it away, you will be doing some good, which is a sufficient reason in itself. You can decide if you would accept money for the deed, or you will be doing it just due to a charitable mood. If you do not want money, but the person taking the items insists, you m...
Read More