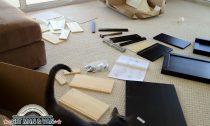 Moving is never an easy chore. No matter whether you have been planning a full-scale domestic relocation, or you just need to get a single piece of furniture relocated from point A to point B across the city, there are a lot of complications and pitfalls that you need to take into account. Here we are going to focus on the second scenario, in which you have to transport a bulky sofa, wardrobe or another item. Chances are that the dimensions of the object in question are such that it will not fit in your car. Hence you will be forced to think about the alternatives.
When the furniture is new
Say that you have seen a table in the local furniture store that will be perfect for your living room. Naturally, you purchase it. The question now is how it is going to reach your address...
Read More