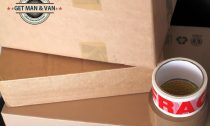 As a rule, moving out of a 2-bedroom home will require you to use about 30 mid-sized boxes, 20 large and 10 extra-large ones. The thing is that a great number of families prefer to use only large and extra-large cardboard boxes thinking that this will save them time when packing and unpacking. That, however, is a mistake because these options are not a universal solution. They are mainly suitable for items that are:
Big in size but light in weight
Small in size but with a light to medium weight
Soft (preferably)
Non-fragile (preferably)
If you do not stick to these basic rules, you will either have a problem handling the boxes or you will end up breaking some of your precious possessions.
How large are large moving boxes?
Typically, a large cardboard box measure 18" x 18" x 24" and...
Read More